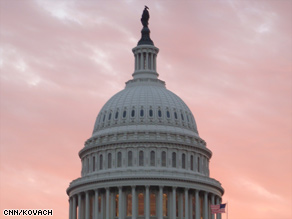 CNN: Obama transition creates India briefing team
The Obama transition team has just set up a special team to interact with the State Department's Operations Center as well as the office of the Director of National Intelligence, according to an Obama aide.
AP: US agencies monitoring India attacks
The Bush administration is continuing to monitor a series of coordinated terrorist attacks in the Indian city of Mumbai but said it was not aware of any American casualties, despite reports that Westerners were targeted.
CNN: Volcker to head board of economic experts
President-elect Barack Obama announced Wednesday that he is creating a new economic recovery board to provide a "fresh perspective" for his administration.
CNN: iReport: A Thanksgiving spotlight on political turkeys
CNN senior political analyst Bill Schneider celebrates Thanksgiving by awarding his "Top 10 Political Turkeys" to the biggest political blunders of the year.
CNN: Barbara Bush recovering, 'in charge' after surgery
Former first lady Barbara Bush was doing well Wednesday following her surgery late Tuesday night to repair and seal a perforated ulcer, according to the surgeon who performed the operation.
CNN: Board rules against Franken in Minnesota Senate recount
Minnesota's Canvassing Board voted unanimously Wednesday to reject a request from Democrat Al Franken to count thousands of rejected absentee ballots in the recount of votes in his Senate race against Republican Sen. Norm Coleman.
CNN: Rep. Rangel rebukes 'inflammatory' media report
U.S. Rep. Charles Rangel on Tuesday responded to what he called an "inflammatory" New York Times article that questions the New York Democrat's ethics.
CNN: First White House Chrismukkah cards accidentally sent
Whoops! A picture of a Christmas tree is not the first thing you would expect to see on an invitation to an event celebrating Hanukkah, but that is exactly what recipients of invitations to this year's White House
CNN: Obama camp declines comment on reported Castro offer
The Obama transition team declined comment Wednesday on a report that Cuban President Raul Castro might be interested in meeting with the president-elect at Guantanamo Bay, and had told an interviewer Cubans could "send [Obama] home with the American flag that waves over" the U.S. base there.
CNN: Obama cabinet vetting historically fast
President-elect Barack Obama is already making presidential history by naming — or at least his transition team is leaking to the press — his Cabinet picks faster than nearly all of his predecessors.
Washington Times: Obama sets record in news conferences
In the 22 days since winning the White House, President-elect Barack Obama has taken 22 questions from reporters and has done two sit-down television interviews.
AP: Bush, Obama reflect on Thanksgiving
President George W. Bush is spending Thanksgiving at his Camp David retreat, thankful for his almost-expired "privilege of serving as the president."
President-elect Barack Obama is staying in Chicago to "have a whole bunch of people over to the house" and squeeze in some Christmas shopping.
Washington Post: Volcker's Tough Approach As Fed Chief Upset Many
Paul A. Volcker was reviled before he was revered.
LA Times: Mumbai shock waves reach Southern California
Expatriates of the Indian city react with grief and dismay to the news of terrorism on their home turf.