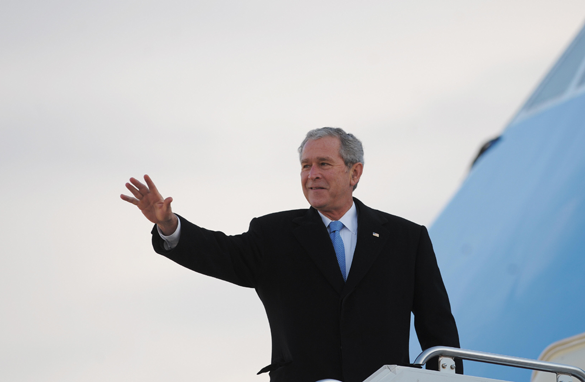 President Bush says he wants to be remembered as a president who stuck to his values. (GETTY IMAGES)
(CNN) - Reflecting on his eight-year presidency, President Bush said above all he would like to be remembered as a commander-in-chief who remained faithful to his values and "did not sell his soul in order to accommodate the political process."
In an interview with his younger sister, Doro Bush Koch, the president said he was forced to make several difficult choices during his tenure in the White House, but added "I darn sure wasn't going to sacrifice [my] values."
Excerpts of the interview, released by The White House [PDF]
"I came to Washington with a set of values, and I'm leaving with the same set of values," Bush told Koch in an interview taped earlier this month that aired on National Public Radio Thursday.
Bush also indicated he hopes his legacy is evaluated on success in the War in Iraq, America's efforts to combat AIDS, and the passage of Medicare legislation in 2003.
"I'd like to be a President (known) as somebody who liberated 50 million people and helped achieve peace; that focused on individuals rather than process; that rallied people to serve their neighbor; that led an effort to help relieve HIV/AIDS and malaria on places like the continent of Africa; that helped elderly people get prescription drugs and Medicare as a part of the basic package; that came to Washington, D.C., with a set of political statements and worked as hard as I possibly could to do what I told the American people I would do," Bush said.
In the same wide-ranging interview, Bush said it was a "fabulous experience to be president," but said he would not miss being in the daily spotlight.
"This is a job which, you know, obviously had a lot of stress to it; it has a lot of pressure," he said.
The interview was conducted for StoryCorps, a national oral history initiative.