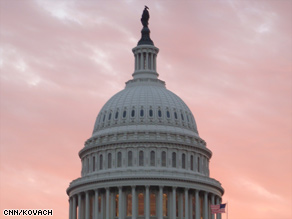 CNN: Commentary: What I'm thankful for
Let's rejoice today and get ready to work hard to rebuild our country's future.
Thanksgiving has always been one of my favorite holidays.
USA TODAY: Bush consoles Indian leader on terrorist attacks
The White House says President Bush has expressed condolences to Prime Minister Manmohan Singh for the terrorist attacks in India's financial capital.
Press secretary Dana Perino said Thursday the president had the conversation with the Indian leader while spending the U.S. Thanksgiving holiday with his family at the Camp David mountaintop retreat in Maryland.
CNN: Obama economic aide shares turkey tips
Paul Volcker, former chairman of Federal Reserve and an economic adviser to President-elect Barack Obama, knows a thing or two about turning out a tasty Thanksgiving turkey.
CNN: Obama: 'a new and brighter day is yet to come'
As the nation enters the traditional holiday shopping season in the midst of a financial crisis and is reminded of its own potential vulnerability by the terrorist attacks in Mumbai, President-elect Barack Obama called on Americans to come together for the sake of the country's future.
CNN: Bush calls troops on Thanksgiving
In keeping with what has become a holiday tradition, President Bush called 11 U.S. troops stationed around the globe to wish them a Happy Thanksgiving and thank them for their service, the White House said Thursday.
CNN: First White House Chrismukkah cards accidentally sent
Whoops! A picture of a Christmas tree is not the first thing you would expect to see on an invitation to an event celebrating Hanukkah, but that is exactly what recipients of invitations to this year's White House Hanukkah reception initially got in the mail.

CNN: Barbara Bush out of ICU after surgery
Former first lady Barbara Bush was moved out of the intensive care unit of a Houston, Texas, hospital into a regular room Thursday after surgery to repair and seal a perforated ulcer, a hospital spokeswoman said.
Washington Post: Area's Other Obamas Revel in Rare Moniker
Nicanor Obama began to realize he might be on to a good thing when he didn't get a speeding ticket not long ago. After stopping the 28-year-old for a little lead-footing near the Verizon Center, a District police officer looked at his driver's license and put the citation book away.
Washington Times: EXCLUSIVE: Cash flows to Rep. Jefferson despite bribery trial
Despite his looming trial on federal bribery charges, Louisiana Democratic Rep. William J. Jefferson hasn't had any trouble raising money from his allies in Congress.
Since his June 2007 indictment, Mr. Jefferson has raised more than a quarter-million dollars in political donations to retain the House seat he's held since 1990.
WSJ: Rescue Plan Strained by Lack of Staff
President-elect Barack Obama has made his most important Treasury Department personnel choice, but Timothy Geithner has big personnel challenges of his own.
The current Treasury has so far struggled to keep up with the task of hiring enough people to handle the $700 billion financial rescue package passed by Congress in October. The man now in charge of running the Troubled Asset Relief Program, Assistant Secretary Neel Kashkari, said the department's Office of Financial Stability, with about 40 full-time employees, is operating at half-staff.
AP: Obama's coming to Washington, but will he go out?
At Ben's Chili Bowl, the soon-to-be first family has an open invitation to dine for free on chili-smothered sausages.A couple of miles away, the owners of the city's only Kenyan restaurant know exactly what they'll serve if Barack Obama stops by for a taste of his African heritage: tilapia smothered in onions, tomatoes and cilantro.
Washington Post: Candidates crowd field for Emanuel replacement
Clout-heavy Chicago politicians are lining up to replace U.S. Rep. Rahm Emanuel, prompting some experts to wonder if the local Democratic party will split on whom to anoint as his successor.
USA TODAY: Turf battle looms over Clinton protection
It may not be your typical Washington power struggle, but Sen. Hillary Rodham Clinton's expected nomination to be secretary of state has already locked two turf-conscious federal agencies in a delicate behind-the-scenes dance over how to protect her.
Politico: Jill Biden: Untraditional, unapologetic
Jill Biden has long chartered an untraditional path for a career politician' wife.
She has four degrees —a bachelor's, two master's and a doctorate. She raised three children and has five grandchildren.