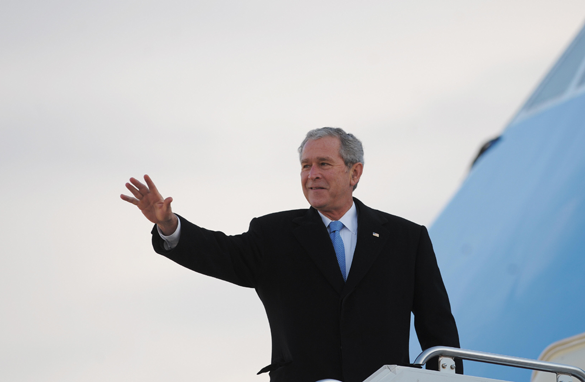 President Bush says he wants to be remembered as a president who stuck to his values. (GETTY IMAGES)
(CNN) - President Bush told an interviewer that his presidency may have helped Barack Obama win the White House.
"I think it was a repudiation of Republicans," he told Charlie Gibson of ABC News, according to a transcript released by the network Monday. "And I'm sure some people voted for Barack Obama because of me. I think most people voted for Barack Obama because they decided they wanted him to be in their living room for the next four years explaining policy."
Earlier: Bush reflects on legacy

As Obama — who made opposition to the war a centerpiece of his presidential run — continued to assemble his national security team, Bush would not say whether or not he would still have pushed for war with Iraq if he had known there were no weapon of mass destruction in that country.
"A lot of people put their reputations on the line and said the weapons of mass destruction is a reason to remove Saddam Hussein," Bush said. "It wasn't just people in my administration. A lot of members in Congress, prior to my arrival in Washington, D.C., during the debate on Iraq, a lot of leaders of nations around the world were all looking at the same intelligence.
"I wish the intelligence had been different, I guess," he said, but would not say whether he would have pressed forward with the decision to invade Iraq if he had known otherwise: "That is a do-over that I can't do."
Bush also said that his administration had pressed for tougher regulations of Fannie Mae and Freddie Mac, but that push had been short-circuited by politics. He also said that many of the decisions that led to the economic crisis came from Wall Street before he arrived in the White House.
"I'm a little upset that we didn't get the reforms to Fannie and Freddie - on Fannie and Freddie, because I think it would have helped a lot," he said. "And when people review the history of this administration, people will say that this administration tried hard to get a regulator. And there will be a lot of analysis of why that didn't happen. I suspect people will find a lot of it didn't happen for pure political reasons."