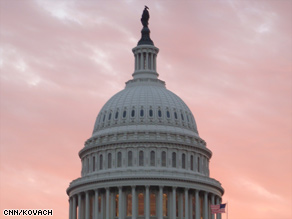 CNN: Obama to roll out national security team Monday
President-elect Barack Obama will announce his national security team - including Sen. Hillary Clinton as secretary of state - at an event Monday morning, according to two officials.
CNN: Laura Bush describes post-White House plans
First lady Laura Bush said Sunday she plans to continue working to advance the position of women in Afghanistan after her husband's time in office ends in January.
CNN: Palin back on the campaign trail
Alaska Gov. Sarah Palin is adding her name to the list of big-name surrogates who are making campaign cameos in the last remaining Senate election this year.
CNN: Specter 'prepared' to take on TV anchor
As speculation continues to swirl about a possible Pennsylvania senate bid by MSNBC anchor Chris Matthews, Republican Sen. Arlen Specter said on Sunday that he's not worried about it.
CNN: Obama inauguration could take on subdued tone
Millions of people are expected to go to Washington to celebrate Barack Obama's inauguration on January 20, but with a troubled economy and pocketbook issues on the mind, the president-elect must be careful to set the right tone.
Washington Post: The Cabinet Possibilities Who Are Saying 'No, Thanks' (for Now)
We took a break from handicapping who's in the running for jobs in President-elect Barack Obama's administration to scour the public record and find contenders who have taken themselves out of consideration.
USA TODAY: Biden picks key staff for V.P. office
Vice President-elect Joe Biden said Sunday he had chosen a close adviser of more than 25 years as his counselor and had picked two other longtime political advisers for key posts in his office.
NYT: Clinton May Face Tough Confirmation Questioning
There may be some tough questions when the Senate Foreign Relations Committee considers the nomination of Senator Hillary Clinton for secretary of state.
NYT: Obama's Choice for U.N. Is Advocate of Strong Action Against Mass Killings
President-elect Barack Obama has chosen his foreign policy adviser, Susan E. Rice, to be ambassador to the United Nations, picking an advocate of "dramatic action" against genocide as he rounds out his national security team, Democrats close to the transition said Sunday.
San Francisco Chronicle: Newsom expounds on State of the City on YouTube
Forget the auditorium, the podium and the audience of supervisors, department heads, journalists and political gadflies. Forget the hourlong running time, too.
San Francisco Mayor Gavin Newsom has been crafting his State of the City speech for months and will debut it today – all 7 1/2 hours of it – on his very own YouTube channel.
USA TODAY: Obama's national security team a diverse mix
President-elect Barack Obama on Monday unveils a team of national security advisers that includes his chief Democratic former rival, a sometime-adviser to his Republican opponent and a member of President Bush's administration.