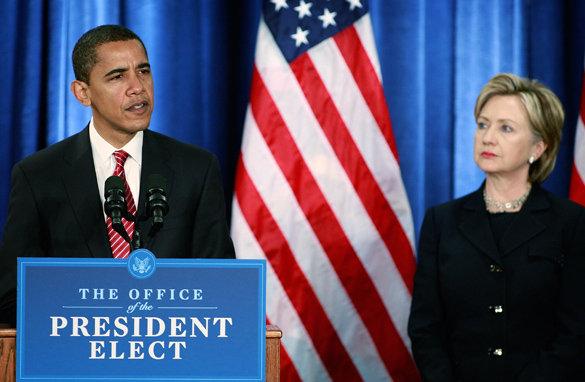 Scott Olson/Getty Images
ABOARD THE CNN EXPRESS

CHICAGO, Illinois (CNN)– You wonder if he's getting used to the sound of it yet.
"Mr. President-elect," Hillary Clinton said to him this week, "thank you for this honor."
You wonder if he has begun to take it in stride.
"Thank you, President-elect Obama, for the honor that you have bestowed upon me," Eric Holder, nominated to be attorney general, said to him.
The election was not ancient history– four weeks ago today, when the Tuesday sun was still in the sky and the polling places were still open, the nation did not know for certain who would win the presidency.
But as Barack Obama introduced his national security team here this week, the words directed at him tumbled over each other:
"President-elect Obama, I am honored by your confidence in me," Janet Napolitano said.
"I will be honored to serve President-elect Obama," Robert Gates said.
Joe Biden, whether inadvertently or on purpose, skipped, on at least two occasions, the future-looking part of the phrase– he dropped the "elect."
"Well, Mr. President," Biden said, "you've assembled quite a team."
And, referring to that team:
"I have a long relationship, as the president does. . . ."
Biden wasn't talking about George W. Bush.
But even as Obama is becoming accustomed to his new station in life– if anyone ever truly does become accustomed to the presidency– his own words, and their tone, continued their transformation from when he was a candidate running for office.
They're subdued now– they tend to be somber and careful.
Less than two years ago, on the day he announced his candidacy south of here in Springfield, Illinois, he said:
"I'm fired up!"
Words like that are no longer necessary.
That day, he made a comparison with another politician who had once worked in Springfield:
"But the life of a tall, gangly, self-made Springfield lawyer tells us that a different future is possible. . . ."
Others make the Lincoln comparisons for him now– it has come up hundreds of times in analyses of Obama's so-called team of rivals.
And then there is the imagery of the oceans.
On the night he sewed up the Democratic nomination, in a speech in St. Paul, Minnesota, he told the crowd that he hoped that:
". . .this was the moment when the rise of the oceans began to slow and our planet began to heal. . . ."
His reference to the oceans this week was considerably more grave:
"As we learned so painfully on 9-11, terror cannot be contained by borders, nor safety provided by oceans alone."
In the aftermath of last week's carnage in India, he stood on the stage in Chicago this week with two people who had thought that they, not he, should be president– Senators Clinton and Biden– and while the campaign has ended, the war against terrorism that he will soon be in charge of has not, and will not.
I keep, as a solemn memento, a copy of a cable that was once given to me– a cable sent, in 1945, by the Supreme Commander of the Allied Powers to the generals and admirals who served under him. The cable was in all capital letters:
"FORMAL SURRENDER OF THE JAPANESE IMPERIAL GOVERNMENT BY JAPANESE IMPERIAL GENERAL HEADQUARTERS AND ALL JAPANESE AND JAPANESE CONTROLLED ARMED FORCES WHEREVER LOCATED WAS SIGNED ON THE BATTLESHIP MISSOURI IN TOKYO BAY AT 0908 ON SEPTEMBER 2ND 1945."
There will be no such cable to announce the end of the war on terrorism, because there will be no one from the other side to sign a surrender. The other side does not fly a flag.
In the weeks after September 11, 2001, I was at dinner with John Glenn, and he told me that he worried about the same quandary:
"All the other wars we had, the object was to win the battlefield," Glenn said. "Use tanks, use planes, take their capital, and declare victory. War's over.
"But this. . .this is like the wind. This is like fighting the wind. It doesn't fit within borders. You can hit them, but they'll pop up somewhere else.
"This doesn't seem to be the kind of war where you can look forward to them signing a surrender on the battleship Missouri. . . ."
This week in Chicago Robert Gates said:
"I am deeply honored that the president-elect has asked me to continue as secretary of defense. . . ."
The president-elect stood a few feet away, on the same stage, and you wonder if, for him, the words will ever sound routine.