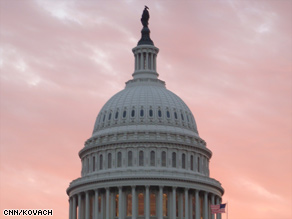 CNN: GOP Senate win in Georgia means Dems can't halt filibusters
Republican Sen. Saxby Chambliss claimed victory Tuesday in the Senate race in Georgia against Democrat Jim Martin, killing Democratic hopes of gaining enough seats to halt filibusters.
CNN: Reluctant defense secretary 'impressed' with Obama
President-elect Barack Obama and Defense Secretary Robert Gates may have policy differences, but Gates said Tuesday he was "impressed" by statements Obama has already made on issues such as the Iraq War.
CNN: Obama pledges to work with governors on economy
Plagued by rising unemployment, falling tax revenue and increased demand for state services, the nation's governors met with President-elect Barack Obama and Vice President-elect Joe Biden on Tuesday to press for federal money to ease their fiscal strain.
CNN: iReport: Your questions for Bill Gates, in the Situation Room
Here's your chance to be in The Situation Room. Wednesday, Bill Gates will be our guest. What questions do you have about the economy for one of the richest men in the world?
CNN: Schneider: Martinez decision signifies problems for GOP
Senator Mel Martinez's decision not to run for re-election in 2010 for his seat from Florida signifies the failure of the Republican Party's outreach to minorities, and it points to difficulties Republicans could face in the 2010 election.
CNN: Obama briefed daily on intelligence
Barack Obama apparently has a hearty appetite for intelligence.
CNN: Gates, a lifelong spy, reveals two secrets in press briefing
Washington is full of seemingly obscure places where history is made. Deep Throat's parking garage, the balcony at Ford's Theater. Now you can add the fire station at Reagan National Airport.
CNN: Clinton nomination sets off fundraising opportunities
One day after Sen. Hillary Clinton was formally nominated to be the next secretary of state, her husband sent a message to supporters seeking cash to help alleviate the former presidential candidate's campaign debts.
CNN: Two states, two very different lines of succession
Bill Richardson and Janet Napolitano: Both are governors of neighboring states in the Southwest. Both are headed to Washington. But their departure is triggering very different succession scenarios in their home states.
CNN: Barbara Bush much improved, ready for release from hospital
Former first lady Barbara Bush is feeling "much, much better" and will be released Tuesday from a Houston hospital, former President George H.W. Bush said.
WSJ: Op-Ed: Ralph Nader & Toby Heaps: We Need a Global Carbon Tax
If President Barack Obama wants to stop the descent toward dangerous global climate change, and avoid the trade anarchy that current approaches to this problem will invite, he should take Al Gore's proposal for a carbon tax and make it global. A tax on CO2 emissions - not a cap-and-trade system - offers the best prospect of meaningfully engaging China and the U.S., while avoiding the prospect of unhinged environmental protectionism.
Washington Post: District Raises a Glass to History
In the mood to celebrate President-elect Barack Obama's inauguration at a D.C. bar? For four days in January, they'll be open 24 hours a day.
USA TODAY: White House rejects impeachment ornament
The White House will not display a Christmas tree ornament that calls for President George W. Bush's impeachment.
Washington Times: Rove: Bush hardly worst president
Karl Rove - the architect, the one-time senior White House adviser to President Bush - walked into the lion's den Tuesday night to argue that his former boss is not the worst president of the past 50 years.
Denver Post: Ga. robo-call breaks Musgrave's silence
"I'm Marilyn Musgrave," the recorded voice on the other end of 275,000 Georgia telephone receivers said Monday. "Until last month, I was a congresswoman from Colorado."