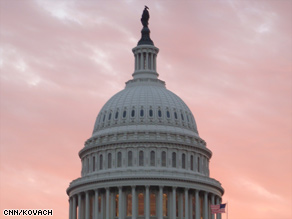 CNN: Bill Gates presses Obama on stimulus package, foreign aid
Microsoft founder Bill Gates told CNN on Wednesday that he hopes President-elect Barack Obama and Congress immediately craft a wide-ranging stimulus package, to help jump-start the nation's sputtering economy, and double the United States' commitment to foreign aid.
CNN: Six in 10 oppose auto bailout, poll shows
A national poll suggests that six in 10 Americans oppose using taxpayer money to help the ailing major U.S. auto companies.
CNN: GOP congresswoman hangs up on Obama — twice
A Florida congresswoman – convinced she was being prank-called by a Barack Obama sound-alike – hung up on the actual president-elect Wednesday.
CNN: Oprah filming in DC for inauguration week
Oprah Winfrey is heading to Washington.
CNN: RNC chair Duncan to decide future this weekend
Republican National Committee Chairman Mike Duncan told CNN he will spend the coming weekend deciding whether to run for another term at the helm of the GOP, and could announce his decision Monday.
CNN: Obama 'deeply disappointed' Richardson shaved beard
Gov. Bill Richardson showed up to his press conference with President-elect Barack Obama Wednesday morning without the beard he has been sporting since dropping out of the presidential race in January, sparking his new boss to tell reporters he is "deeply disappointed with the loss of the beard."

CNN: Biden told WMD attack 'more than likely' before 2013
Vice President-elect Joe Biden and Secretary of Homeland Security-designate Janet Napolitano received a bi-partisan commission briefing Wednesday on potential attacks involving weapons of mass destruction.
CNN: Poll shows public approves of Obama's Cabinet picks
A new national poll suggests that Americans think President-elect Barack Obama's getting it right when it comes to his Cabinet picks, especially when it comes to Hillary Clinton and Robert Gates.
CNN: Fun facts about the White House holidays
As Americans start the annual tradition of sending out Christmas cards, preparing Christmas dinner menus, and decorating their home for the holidays, President and Mrs. Bush have a decidedly larger task at hand.
CNN: RGA chairman warns Obama against bailouts
The chairman of the Republican Governor's Association wrote to President-elect Barack Obama on Tuesday, urging him to steer clear of industry bailouts and pressing for conservative solutions to the ailing economy.
CNN: Jeb Bush considering Senate run
Former Florida Gov. Jeb Bush is considering a bid for the United Sates Senate, Republican strategist Alex Castellanos told CNN Tuesday.
Washington Post: The Benefactor of the Ball
Va. Man Spends $1 Million on Inaugural Package for Disadvantaged
Washington Post: Obama Policymakers Turn to Campaign Tools
Barack Obama's incoming administration has begun to draw on the high-tech organizational tools that helped get him elected to lay the groundwork for an attempt to restructure the U.S. health-care system.
Boston Globe: The comeback of Lawrence Summers
In mid-September, in the midst of the growing financial crisis, Lawrence Summers sat in a box seat down the third-base line at Fenway Park, nibbling on a hot dog and fielding call after call on his cellphone.
Minneapolis Star Tribune: How bad is Minnesota's budget deficit? Mega-bad
Minnesota is headed toward a historic budget deficit that could rock state government - and the people who depend on it - down to its core.