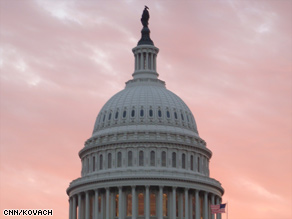 CNN: Has Palin snubbed Oprah?
Did Sarah Palin snub Oprah Winfrey?
CNN: Congressmen demand explanation on torture, pardons
Two key House Democrats demanded in a letter to Attorney General Michael Mukasey on Thursday that he explain his recent comments about U.S. counterterrorism officials' controversial policies on detainee interrogations and terrorist surveillance.
CNN: Poll: Americans back Obama troop redeployment plan
Americans back Barack Obama's plan to move U.S. troops from Iraq to Afghanistan, a new national poll indicates.
CNN: Missing ballots stall Minnesota Senate recount
A missing envelope containing about 130 ballots has stalled the recount in Minnesota's U.S. Senate race between incumbent Republican Sen. Norm Coleman and Democrat Al Franken.
CNN: Obama team plans grassroots meetings for next weekend
As the pieces of Barack Obama's White House organization begin to fall into place, so are the ways he plans to re-tool his campaign infrastructure to help support his presidential efforts.
CNN: Clinton's nomination popular, but is it constitutional?
Polls show that Americans overwhelmingly approve of Sen. Hillary Clinton as secretary of state, but will the founding fathers veto this popular addition to Barack Obama's "team of rivals"?

CNN: Bushes announce purchase of post-White House home
President and Mrs. Bush will be moving to Dallas after Mr. Bush leaves office, the White House announced Thursday.
CNN: One month later, four House races still unresolved
One month after Election Day, four congressional races have yet to be decided.
CNN: Commentary: Thorny thicket of Bill and Hillary Clinton conflicts?
While Hillary Clinton's nomination to be secretary of state has dominated coverage of the transition, the nation's attention hasn't yet focused on the thorny thicket of potential conflicts of interest involving Bill Clinton's fundraising (both for himself and for his foundation) across the globe.
CNN: Preston on Politics: A grudge in the RNC race
Political grudges die hard — and in some cases not at all.
Washington Post: Bar Hours Worry D.C. Police Union
The leader of the D.C. police union said yesterday he worries that police resources could be insufficient during inauguration weekend because of extended hours for clubs, bars and restaurants.
NYT: Alaska's New Senator Sees Change at Work
To get elected in Alaska to the United States Senate as a Democrat sometimes requires not acting like one. Talk up drilling for oil in wildlife refuges. Talk up gun rights. Insist that those liberals who control Congress will never push you around.
Washington Post: OpEd: Henry Kissinger: Team of Heavyweights
President-elect Barack Obama has appointed an extraordinary team for national security policy.
NYT: McCain Campaign Spent $110,000 on Palin's Stylists
Gov. Sarah Palin's traveling makeup artist was paid $68,400 and her hair stylist received more than $42,000 for roughly two months of work, according to a new campaign finance report filed with the Federal Election Commission.
NYT: The Three Amigos, in Bhutan
The election is behind them but the three amigos – Senators John McCain, Joseph I. Lieberman and Lindsey Graham – are still jetting from place to place. Only now it is across South Asia.