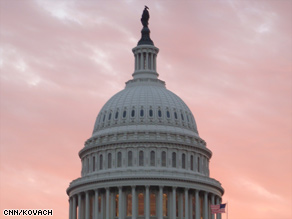 CNN: Obama: Days of 'pork ... as a strategy' are over
President-elect Barack Obama issued a warning Sunday to officials around the country who want to fund projects with federal dollars: no more business as usual.
CNN: Senate seat for Caroline Kennedy would extend legacy
Caroline Kennedy, who spent most of her life looking to steer clear of the spotlight, is capping off a year of unusually public - and political - activity with interest in the Senate seat that would be vacated by Secretary of State-designate Hillary Clinton.
CNN: Indicted Louisiana congressman loses re-election bid
Nine-term Democratic Rep. William Jefferson, who has been battling scandals and a federal indictment for the past three years, lost his bid for re-election on Saturday.
CNN: Rendell: Napolitano comment not sexist
Pennsylvania Gov. Ed Rendell defended his recent off-microphone remark about Homeland Security Secretary-designate Janet Napolitano, calling the comment "100 percent true."
CNN: Rice takes responsibility for troubled Iraq occupation
Secretary of State Condoleezza Rice Sunday took partial responsibility for the troubled occupation of Iraq, saying the government was not properly structured to handle the problems the United States faced after the overthrow of Saddam Hussein's regime.
CNN: Obama: Shinseki 'exactly the right person' for Veterans Affairs
President-elect Barack Obama announced Sunday that retired Army Gen. Eric Shinseki is his pick for secretary of Veterans Affairs.

CNN: Gregory named host of 'Meet the Press'
Venerable newsman Tom Brokaw handed the reins of NBC's "Meet the Press" over to David Gregory, marking a generational shift at the Sunday morning institution.
CNN: Rice: Clinton will be 'terrific' secretary of state
Secretary of State Condoleezza Rice said Sunday that she believes Sen. Hillary Clinton will "do a great job" as secretary of state.
CNN: Bush in Philadelphia: 'Welcome to my hanging'
President Bush has often said he doesn't dwell on how others view him – but he spent plenty of time Saturday taking in one conception, attending the unveiling of a presidential portrait in at a private club in Philadelphia.
"Welcome to my hanging," said Bush, to laughter from the crowd.
CNN: Obama speechwriter Favreau learns the perils of Facebook
Jon Favreau, future White House director of speechwriting, has so far been at a loss for words over Facebook pictures of him at a recent party.
NYT: History and Amazement in House Race Outcome
Soft-spoken, retiring and diminutive, Anh Cao does not appear to fit the role of dragon-slayer.
Washington Post: The Politics of the Federal Bench
The federal judiciary is on the verge of a major shift when President-elect Barack Obama's nominees take control of several of the nation's most important appellate courts, legal scholars and political activists say.
AP: Ex-congressman may get jail for drunken driving
Disgraced former Rep. Vito Fossella is headed to court to find out if he has to serve jail time for a drunken-driving incident that wrecked his career by revealing he'd fathered a child from an extramarital affair.
San Francisco Chronicle: GOP appears in deep trouble in California
With their registrations sinking and their political clout withering, California Republicans have come out of the November election in danger of slipping into political irrelevance across much of the state.