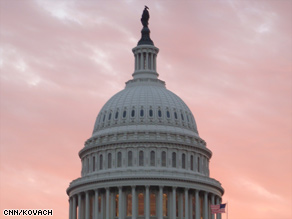 CNN: Blagojevich free on $4,500 bail after arrest
Illinois Gov. Rod Blagojevich appeared in court Tuesday afternoon to hear federal corruption charges against him. He was released on $4,500 bail.
CNN: Commentary: What was Blagojevich thinking?
In the great annals of "What Was He Thinking?" (political edition), the case of Illinois Gov. Rod Blagojevich sets a new standard - for its breathtaking stupidity, venality and illegality.
CNN: Duncan to seek new term as GOP chief
Mike Duncan plans to seek another term as chairman of the Republican Party, a post that already has drawn several high-profile candidates seeking to replace him, a source close to Duncan said Tuesday.
CNN: Obama and Gore: Time to deal with climate change
With former Vice President Al Gore at his side, President-elect Barack Obama said Tuesday it's time the issue of climate change is dealt with in a "serious way."
CNN: House Ethics expands Rangel investigation
The House Ethics Committee announced Tuesday it is expanding its investigation into Rep. Charles Rangel.
CNN: Forbes takes a side in RNC race
Former presidential candidate Steve Forbes announced Tuesday he would serve as honorary chair of Ken Blackwell's campaign to be the next Republican National Committee chairman, describing the former Ohio secretary of state as a "reliable conservative … who can broaden the appeal of the Republican Party."
CNN: Inauguration Day fashion
The presidential inauguration party tops the list of formal affairs next January, and President-elect Barack Obama is rumored to be preparing for his big event: He's believed to have ordered a simple and classic black tuxedo by the union-friendly suburban Illinois-designer Hart Schaffner Marx, a stylist to which the president-elect is said to be faithful, according to the Los Angeles Times.

CNN: Rep. King eyes Clinton's Senate seat
Rep. Peter King, R-New York, said Tuesday he's interested in running for Hillary Clinton's senate seat in 2010.
CNN: Durbin wants special election to replace Obama
Illinois Sen. Dick Durbin said Tuesday he wants a special election called to fill President-elect Barack Obama's Senate seat.
CNN: Bush defends Iraq invasion at West Point farewell
With his days in office dwindling and
criticism of his record mounting, an unapologetic President Bush strongly defended his administration's foreign and defense policies — including his controversial decision to invade Iraq and the tenure of former Defense Secretary Donald Rumsfeld — in an address Tuesday at the U.S. Military Academy at West Point.
Washington Post: Senators Cite Security, Oppose Inauguration Week Bar Hours
Two U.S. senators involved in the planning of President-elect Barack Obama's inauguration objected yesterday to the emergency law approved by the D.C. Council that will allow bars and nightclubs to stay open all night, warning that the plan could strain law enforcement resources.
Washington Post: Inaugural Parade Meets Battle of the Bands
Dunbar Senior High School's Crimson Tide Marching Pride band was outside yesterday afternoon, stepping through its routines in the cold, when Rodney Chambers's cellphone vibrated.
Chicago Tribune: Governor's wife supported his pay-to-play Senate scheme, complaint alleges
An unflattering portrait depicting Illinois First Lady Patricia Blagojevich as a modern-day Lady Macbeth who plotted against her husband's perceived enemies and backed his corrupt schemes emerged in court documents connected to the governor's arrest Tuesday.