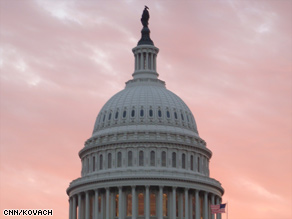 CNN: House passes $14 billion auto bailout package
The House of Representatives handily passed a bill Wednesday night that would provide up to $14 billion in bridge loans to automakers, but Republican opposition cast doubt about the bill's fate in the Senate later this week.
CNN: Obama calls on Blagojevich to resign
President-elect Barack Obama Wednesday joined calls for Illinois Gov. Rod Blagojevich to resign.
CNN: Jackson says he didn't 'pay to play' Illinois politics
A law enforcement official connected to the investigation into Illinois Gov. Rod Blagojevich confirmed Wednesday that the person referred to in the criminal complaint against the governor as "Senate Candidate 5" is Rep. Jesse Jackson Jr.
CNN: Source: Daschle to get Health and Human Services nod Thursday
Former Sen. Tom Daschle will be announced Thursday as President-elect Barack Obama's nominee to lead the Department of Health and Human Services, a Democratic source said Wednesday.
CNN: Obama makes pick for energy chief, sources say
President-elect Barack Obama is likely to name Steven Chu, a physicist who runs the Lawrence Berkeley National Laboratory, as his energy secretary, three Democratic officials close to the transition said.
CNN: Jindal says not interested in being president
Bobby Jindal — the Indian-American Louisiana governor who is widely viewed as one of the frontrunners for the 2012 Republican presidential nomination — flatly said Tuesday he's not interested in seeking the White House.

CNN: Land of Lincoln once again mired in controversy
Illinois state politics read more like a script from "The Sopranos" than a page out of the history books.
CNN: Source confirms Senate Candidate 5 is Jackson
A law enforcement official connected to the investigation into Illinois Gov. Rod Blagojevich confirmed Wednesday that the person referred to in a FBI affidavit as "Senate Candidate 5″ is Jackson.
CNN: Schumer urges Obama team to keep Fitzgerald as U.S. attorney
In the midst of a corruption investigation concerning Illinois Gov. Rod Blagojevich, the incoming Obama administration is being urged to keep veteran U.S. Attorney Patrick Fitzgerald on the job.
CNN: Joe 'The Plumber' 'appalled' with McCain
With the dust still settling from the 2008 presidential race, one of its biggest celebrities lashed out Tuesday at the man who made him famous.
USA TODAY: North Dakota tops analysis of corruption
Its largest city is legendary for machine-style politics and its elected leaders have been under investigation for years, but by one measure, Illinois is not even close to the nation's most-corrupt state. North Dakota, it turns out, may hold that distinction instead. (…)"If it isn't the most corrupt state in the United States it's certainly one hell of a competitor," Robert Grant, head of the FBI's Chicago office, said Tuesday.
Washington Post: Oprah Comes Calling
Ceci Aikens was working at William W. Hall Elementary School in Capitol Heights on Wednesday when the phone rang. Stuck in a classroom full of students, she couldn't answer.
Detroit News: Tuskegee Airmen get inaugural invite
They broke down some of the color lines of the military and earned a spot in history for their heroic fights during World War II. Next month, surviving members of the legendary Tuskegee Airmen, an all-black military unit trained for combat, will get to witness another piece of history being made.
Washington Post: Cleaning Firm Used Illegal Workers at Chertoff Home
Every few weeks for nearly four years, the Secret Service screened the IDs of employees for a Maryland cleaning company before they entered the house of Homeland Security Secretary Michael Chertoff, the nation's top immigration official.
The company's owner says the workers sailed through the checks - although some of them turned out to be illegal immigrants.
NYT: Change.gov Takes Questions
You've got questions?
The Obama transition team might have an answer.