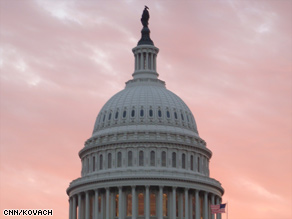 CNN: Auto bailout bill dies in Senate
Senate Democrats and the White House failed to find 60 votes to end debate on a $14 billion auto bailout bill and bring it to a vote Thursday night, killing the measure for the year.
CNN: Impeachment of Illinois governor pushed
Key Illinois Democratic legislators are circulating a letter urging support for the impeachment of Gov. Rod Blagojevich, who was arrested this week on federal corruption charges relating in part to the selection of President-elect Barack Obama's successor as a U.S. senator.
CNN: Illinois first lady scrutinized before husband arrested
Despite Patricia Blagojevich's myriad charitable endeavors, she is now thought of as the goading voice in the background of a November phone call taped by the FBI.
CNN: Bush opens up on struggle with alcohol abuse
President Bush reflected on his own struggle with alcohol in a White House meeting Thursday that touted gains in the war on drug abuse. CNN was the only media outlet invited to attend the entire meeting, which other reporters joined in the final minutes for remarks from the president.
CNN: Powell: GOP 'polarization' backfired in election
The Republican party must stop "shouting at the world" and start listening to minority groups if it is to win elections in the 21st century, former Secretary of State Colin Powell said Thursday.
CNN: 'This is why you should be president…'
After a campaign with a lot of focus on 3 a.m. phone calls, chief Obama strategist David Axelrod recalled a 2 a.m. e-mail as a decisive moment.

CNN: Clinton's future paycheck cut
Hillary Clinton's pay check has officially been cut.
CNN: Obama taps Daschle as 'lead architect' of health care plan
President-elect Barack Obama announced Thursday that he has chosen former Sen. Tom Daschle to lead the Department of Health and Human Services.
CNN: Obama aide: How Clinton may have won
Would Hillary Clinton have won the prolonged Democratic primary race if David Plouffe was managing her campaign?
CNN: Balancing act: Defense Secretary to bridge two administrations
Defense Secretary Robert Gates is learning that becoming the first defense secretary to bridge two administrations can lead to some awkward moments.
Washington Post: Obama Worked to Distance Self From Blagojevich Early On
Like every other politician in Illinois, Gov. Rod Blagojevich waited for Barack Obama's call this summer.
Washington Post: Inaugural Rules Bar Overnight Camping
Federal officials said yesterday that no one will be allowed to camp overnight on the Mall before the presidential inauguration and that spectators will be barred from staking out spots along the parade route until 7 a.m. The officials spoke at a news conference in which they sought to reassure the public that Washington will be well prepared for the Jan. 20 event. They said they are working out plans for the record crowds expected at the inauguration of Barack Obama, including how they will deal with transportation and security challenges.
Washington Post: NASA Chief Denies Rift With Transition Team
NASA Adminstrator Michael Griffin today denounced an Orlando Sentinel report that he and the space agency had been uncooperative with President-elect Barack Obama's transition team.
NYT: Ex-Obama Fund-Raiser Was Close to Illinois Governor, but Kept Ties Separate
The criminal complaint this week against Gov. Rod R. Blagojevich of Illinois has once again brought to the fore a prominent figure in the corrupt political world here that President-elect Barack Obama had been eager to leave behind.