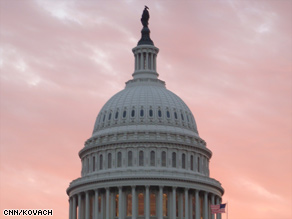 CNN: Aide: Obama to hold first national security meeting
President-elect Barack Obama will hold the first meeting of his national security team on Monday in Chicago, according to a transition aide for the incoming administration.
AP: Illinois lawmakers to focus on ousting governor
Republicans and Democrats alike are calling for Illinois lawmakers to begin impeachment proceedings against Gov. Rod Blagojevich, saying the step is necessary to restore public confidence in state government....Legislators were to meet Monday afternoon for the first time since Blagojevich was arrested last week on charges he shook down businesses seeking state deals and tried to profit from his power to choose a replacement for President-elect Barack Obama's vacant Senate seat. The session's focus was supposed to be about considering a special election, but impeachment is likely to be the chief topic of conversation.
Chicago Sun-Times: Tapes have potential witnesses speaking out
When it comes to coming clean, nothing is as motivating as a wiretap. Last week's revelation that Gov. Blagojevich was secretly recorded in his campaign office and on his home phone has prompted more than a dozen potential witnesses in recent days to come forward. They've been calling investigators and defense lawyers to talk about deals or discussions they've had with Blagojevich.
NY Times: 2 Sides of a Troubled Governor, Sinking Deeper
Gov. Rod R. Blagojevich is a polished speaker who can win over elderly women at luncheons in southern Illinois with his earnest attention and eloquently recite historical anecdotes from the lives of the leaders he says he most admires — Theodore Roosevelt, Abraham Lincoln, Robert F. Kennedy, Alexander Hamilton, Ronald Reagan.
CNN: McCain: I can't promise to support Palin for president
Sen. John McCain said Sunday he would not necessarily support his former running mate if she chose to run for president. Speaking to ABC's "This Week," McCain was asked whether Alaska Gov. Sarah Palin could count on his support.
Washington Post: Executive Pay Limits May Prove Toothless
Congress wanted to guarantee that the $700 billion financial bailout would limit the eye-popping pay of Wall Street executives, so lawmakers included a mechanism for reviewing executive compensation and penalizing firms that break the rules. But at the last minute, the Bush administration insisted on a one-sentence change to the provision, congressional aides said.
NY Times: Spousal Ties to Lobbying Test a Vow From Obama
Linda Hall Daschle is one of the most important aviation lobbyists in town. Ms. Daschle is also the wife of Tom Daschle, whom President-elect Barack Obama has chosen to be the next secretary of health and human services.
AP: Detroit automakers await deal on auto loans
Detroit automakers are awaiting a financial lifeline from the White House to provide short-term stability to two companies on the brink of collapse which the Bush administration is currently working on.
NY Times: States' Funds for Jobless Are Drying Up
With unemployment claims reaching their highest levels in decades, states are running out of money to pay benefits, and some are turning to the federal government for loans or increasing taxes on businesses to make the payments....Thirty states are at risk of having the funds that pay out unemployment benefits become insolvent over the next few months, according to the National Association of State Workforce Agencies.
CNN: Hughley: All-Access Obama
D.L. Hughley talks with Scout Tufankjian, a photographer who had unprecedented access with President-elect Barack Obama.
CNN: Iraqi journalist throws shoes at Bush in Baghdad
A man identified as an Iraqi journalist threw shoes at - but missed - President Bush during a news conference Sunday evening in Baghdad, where Bush was making a farewell visit.
Times of London: Gordon Brown ready to defy Barack Obama over Afghanistan troop surge
Gordon Brown is considering rejecting an expected request from Barack Obama, the US President-elect, to send 2,000 more British troops to Afghanistan to join the surge of US forces confronting the Taleban.
USA TODAY: Reports show that more campaigns raise big money
Nearly half of the nation's House and Senate candidates raised $1 million or more in contributions for the 2008 election, about two-thirds more than a decade ago, campaign-finance reports show.
CNN: U.S.: India prepared for strike on Pakistan
The United States believes that India's air force began preliminary preparations for a possible attack against Pakistan in the immediate aftermath of the recent massacre in Mumbai, CNN has learned.
Times of London: Terrorism adviser to Met is on wanted list
A man wanted by Interpol for his links to an alleged terrorist organisation has been advising Scotland Yard on countering Muslim extremism, a Times investigation has discovered... Tunisia has accused Mr Harrath, the chief executive officer of the Islam Channel in Britain and an adviser to the Scotland Yard Muslim Contact Unit, of seeking help from Osama bin Laden. It says that the FIT wants to establish "an Islamic state by means of armed revolutionary violence".
NY Times: Paterson's Office Is Not Amused by 'Saturday Night Live' Skit
Gov. David A. Paterson's office criticized a skit on this weekend's "Saturday Night Live" in which Mr. Paterson, who is legally blind, was portrayed as disoriented and buffoonlike.