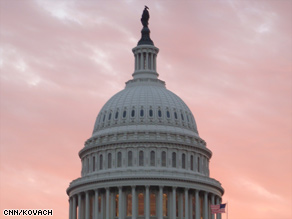 CNN: Caroline Kennedy wants Clinton's Senate seat, senator says
Caroline Kennedy, the 51-year-old daughter of President John F. Kennedy, has indicated her interest in filling the New York Senate seat being vacated by secretary of state designee Hillary Clinton.
CNN: Biden beats Obama in puppy race
While the country is fixated on what kind of dog President-elect Barack Obama's family will get when they move into the White House, his Vice President-elect Joe Biden quietly picked out a puppy of his own last week.
CNN: Lawyer: I don't think Illinois governor will resign
The attorney for embattled Illinois Gov. Rod Blagojevich said Monday night that he does not believe Blagojevich will resign.
CNN: 'Saturday Night Live' not funny, says N.Y. Gov. Paterson
New York Gov. David Paterson said Monday "Saturday Night Live" went too far in its portrayal of the legally blind governor over the weekend.
CNN: Fey, Palin, McCain dominate list of top 10 quotes for '08
With less than three weeks left in the year, the Yale Book of Quotations is out with its list of the 10 quotes for 2008, and statements some politicians probably wish they could take back dominate this year's list.
CNN: Attorney general nominee to give up $2 million-plus salary
Attorney general nominee Eric Holder is leaving a lucrative job as a high-powered Washington lawyer to take a modest government salary as the nation's top law enforcement official — but he won't have to pinch pennies.

CNN: Salazar Obama's choice for interior
President-elect Barack Obama is set to tap Sen. Ken Salazar of Colorado as his nominee for secretary of the interior, two transition officials told CNN Monday.
CNN: Duncan to be secretary of education
A Democratic source confirms to CNN that President-elect Barack Obama's choice for secretary of education is Arne Duncan, the head of Chicago public schools.
CNN: Time Magazine veteran to become top Biden aide
Time Magazine's Jay Carney is set to become Vice President-elect Joe Biden's communications director, two sources tell CNN's John King.
CNN: Obama announces energy secretary pick
President-elect Barack Obama has selected physicist Steven Chu for the position of energy secretary.
CNN: Obama announces pick for new 'climate czar' post
President-elect Barack Obama on Monday named Carol Browner as the newly created "climate czar" inside the White House.
Washington Post: Grand Jury Investigates Richardson Contributor
A federal grand jury is investigating whether a financial firm improperly won more than $1.4 million in work for the state of New Mexico shortly after making contributions to political action committees of Gov. Bill Richardson (D).
Washington Times: EXCLUSIVE: Obama aide tied to failed immigration policy
One of President-elect Barack Obama's top immigration advisers oversaw a Clinton-era program that awarded U.S. citizenship to thousands of convicted criminals and failed to conduct adequate FBI background checks on foreigners during a push to reduce a backlog of naturalization applications.
Politico: Palin 'suspicious' of church fire
Alaska Gov. Sarah Palin said Monday that she is "suspicious" of a fire that destroyed her church over the weekend in Wasilla.
AP: Wife of Illinois governor apologizes to neighbors
Illinois first lady Patti Blagojevich has sent a note to her neighbors apologizing for the media attention that has besieged her Chicago neighborhood.
LA Times: Environmental groups, scientists cheer Obama appointments
With a Nobel physicist and a former EPA chief on board, some expect Obama's White House to break from what they see as the Bush administration's record of overlooking science in favor of politics.