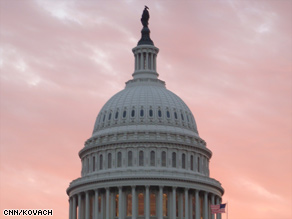 CNN: Bush on auto bailout, war in Iraq, shoe-throwing reporter
President Bush said Tuesday he is "considering all options" in aiding the U.S. auto industry because doing nothing could lead to further economic decline.
CNN: Cheney on Iraq: 'We made the right decision'
In his first TV interview since the presidential election, Vice President Dick Cheney once again staunchly defended the Bush administration's record in the war on terror and, more specifically, the decision to go to war in Iraq.
CNN: Jackson Jr. went to authorities about Illinois governor
Rep. Jesse Jackson Jr., who was cited in a criminal complaint against Rod Blagojevich, went to the U.S. Attorney's office about alleged wrongdoers, including the Illinois governor, a Jackson spokesman said Tuesday.
CNN: Sources: Obama to tap Vilsack as agriculture secretary
President-elect Barack Obama on Wednesday will announce former Iowa Gov. Tom Vilsack as his choice for agriculture secretary and Colorado Sen. Ken Salazar as his choice for secretary of the interior, an aide on Obama's transition team and a separate Democratic source said.
CNN: Cheney says Clinton just what Obama needs
President-elect Barack Obama's national security team got an endorsement from an unlikely source Monday: Vice President Dick Cheney.
CNN: Commentary: Throwing shoes doesn't help Iraq
Not since Soviet leader Nikita Khrushchev's famous footwear pounded into a table at an October 1960 United Nations session have we seen a shoe create such a global political firestorm.

CNN: Pressure's on for New York governor to pick female senator
With Sen. Hillary Clinton's expected appointment as secretary of state, women are at risk of seeing a decrease in their representation in the Senate - and some are putting pressure on New York Gov. David Paterson to make sure that does not happen.
CNN: Senator's lawyer denies corruption allegations
The attorney hired on behalf of U.S. Sen. Norm Coleman said Tuesday that recent allegations facing the Minnesota Republican are "inherently suspect," adding he'll "put them to rest."
CNN: Blackwell and Benkiser look to lead the RNC
Former Ohio Secretary of State Ken Blackwell and Texas Republican Party Chair Tina Benkiser announced Tuesday they will run on the same ticket in the race to head the Republican National Committee.
CNN: Minnesota officials eye challenged Senate ballots
While the official hand recount in Minnesota's tight U.S. Senate race between incumbent Republican Norm Coleman and Democrat Al Franken has ended, a stack of about 1,500 challenged ballots means the announcement of a winner is still at least a few days away.
CNN: White House press secretary sports black eye
Who knew being White House press secretary was such a dangerous job?
While President Bush emerged from the weekend's now-infamous shoe attack in Iraq without a scratch, press secretary Dana Perino appears to be a little worse for wear.
CNN: Cell phone traffic jam looms for Obama inauguration
Hundreds of thousands of Americans are planning to converge on the National Mall to witness the historic moment when Barack Obama takes the oath of office and becomes the nation's first African-American president.
CNN: Senate Majority Leader wants Kennedy to replace Clinton
Senate Majority Leader Harry Reid is backing Caroline Kennedy to replace Secretary of State-designate Hillary Clinton as the next senator from New York.
CNN: Gingrich to RNC: Drop Blago video, help Obama instead
Former House Speaker Newt Gingrich isn't happy with the Republican National Committee. In a letter addressed Tuesday to Mike Duncan, chairman of the RNC, Gingrich slams the committee for releasing a recent Web video that seeks to connect Obama to embattled Illinois Gov. Rod Blagojevich.
Washington Post: Inaugural 'Last Call' Moved Up
D.C. bars and nightclubs will be allowed to serve alcohol until 4 a.m., not 5 a.m., during inauguration week after the D.C. Council voted last night to modestly scale back the emergency legislation it approved two weeks ago.
Under the revised rules, nightlife establishments will still be allowed to remain open for food service round-the-clock from Jan. 17 to 21.
USA TODAY: Heeere's your 'Best basketball-playing Cabinet in historeee!'
Job experience? Check.
Academic credentials? Check.
Able to hit a fade-away and drive the lane? Check.
As President-elect Barack Obama joked this morning in Chicago, he may be "putting together the best basketball-playing Cabinet in American history."
Politico: Obama's e-mails raise cash, concerns
Want a sleek Obama '08 coffee mug, a four-year calendar with pictures of Barack Obama on the campaign trail, or a blue T-shirt with "Change Can Happen" emblazoned under stylized photos of the incoming president and vice president?
Des Moines Register: Iowa's last ag secretary served 67 years ago
Iowa's last secretary of agriculture was born in 1888 on a farm in Adair County.
Washington Times: Philanthropy society shuns Madoff
The collapse of Wall Street legend Bernard L. Madoff's investment empire has generated scandal, bankruptcy, financial panic – and some socially awkward situations.