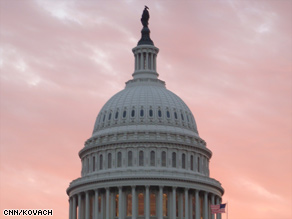 CNN: Obama's inaugural choice sparks outrage
Prominent liberal groups and gay rights proponents criticized President-elect Barack Obama Wednesday for choosing evangelical pastor Rick Warren to deliver the invocation at the presidential inauguration next month.
CNN: Obama, Bush planning to meet again — with a twist
CNN has learned that President-elect Barack Obama and President Bush have privately agreed to try and come together again in January for a second post-election meeting at the White House, but this time they're inviting the three living former presidents as well.
CNN: Cheney to Emanuel: Control your VP
Vice President Dick Cheney had some blunt — and humorous — advice for incoming White House Chief of Staff Rahm Emanuel at a private breakfast earlier this month, CNN has learned.
CNN: Kennedy not the clear favorite for Senate seat, poll says
A new poll out Wednesday suggests there is no clear favorite among New Yorkers on who they think should replace Hillary Clinton in the U.S. Senate — and despite the buzz over Caroline Kennedy, the soon-to-be-vacant Senate seat is not necessarily hers for the taking.
CNN: Obama adds another Republican to Cabinet
President-elect Barack Obama has picked GOP Rep. Ray LaHood of Illinois to be his nominee for transportation secretary, two sources told CNN on Wednesday.
CNN: Fife and drum extravaganza set for Inauguration Day
The Army is making sure it impresses its next commander-in-chief when he is sworn in next month. It is planning to honor President-elect Barack Obama with the biggest fife and drum corps that the Army has ever put together.

CNN: Why Becerra turned down Obama
An aide to Rep. Xavier Becerra and a Democratic leadership aide both say a key reason he turned down the job of U.S. Trade Representative is because trade is simply not a top priority for the country right now, and Becerra felt that he would be better off staying in the House where he can deal with a broader range of issues such as health care and immigration.
CNN: Blagojevich tells reporters to 'hang loose'
Embattled Illinois Gov. Rod Blagojevich said Wednesday that he "can't wait to begin to tell my side of the story."
CNN: Running the court with Obama
When President-elect Barack Obama announced Arne Duncan as his choice to be Education secretary this week, he referenced Duncan's career as a professional basketball player in Australia."I think we are putting together the best basketball-playing cabinet in American history," Obama said.
And he might be right.
CNN: Obama team dismisses reports of trillion dollar stimulus
An Obama transition official says reports that the president-elect will release a stimulus plan with a trillion-dollar price tag are overblown, and that the actual figure being discussed is far smaller.
CNN: Minnesota judge to GOP lawyer: This is not the Florida recount
A Minnesota justice hearing arguments from attorneys facing off in the year's last remaining Senate contest told a legal veteran of the 2000 presidential recount that his state is "not Florida."
CNN: Senior Senate Democrat looking over his shoulder
Senate Majority Leader Harry Reid, D-Nevada, clearly remembers what happened to his predecessor in 2004. That is the year when congressional Republicans aimed their fire at then-Senate Minority Leader Tom Daschle, D-South Dakota, and helped defeat him.
CNN: Final congressional race resolved
More than six weeks after voters headed to the polls, the final House race has been called in favor of the Democratic challenger in Virginia.
Washington Post: Star-Gazing Foreseen at the Inaugural Balls
Forget the millions on Metro, and the bus caravans inching in from beyond the Beltway. Barack Obama's inauguration is destined to create the greatest red-carpet gridlock in the history of the Federal City. Oprah at the Kennedy Center. Yo-Yo Ma at the swearing-in. Sting at the Harman Center.
Washington Post: Helping to Write History
The job requires him to work unnoticed, even in plain view, so Jon Favreau settles into a wooden chair at a busy Starbucks in the center of Penn Quarter. Deadline looms, and he needs to write at least half a page by the end of the day.
Washington Times: Gay man backed for Navy secretary
Some top retired military leaders and some Democrats in Congress are backing William White, chief operating officer of the Intrepid Museum Foundation, to be the next secretary of the Navy – a move that would put the first openly gay person at the top of one of the services.
Chicago Tribune: Council approves $86 million deal for Olympic Village site
The Chicago City Council voted 48-0 today to approve a deal for the city to buy the 37-acre Michael Reese Hospital site for $86 million as part of the city's bid for the 2016 Olympics.The Daley administration hopes to use the site as the Olympic Village and then transform it into a mixed-use devlepment with affordable housing.
Many aldermen said they would not continue to support the Olympic effort unless the 2016 bid committee hires more blacks and Hispanics for its staff and awards more contracts to minority firms.