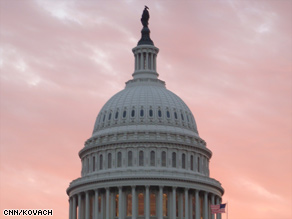 CNN: Iraqi shoe thrower in court next week, brother says
The trial of a reporter charged with throwing his shoes at President Bush during a news conference will begin next week, according to the reporter's brother.
CNN: Cheney: Senator deserved the f-word
Vice President Dick Cheney said Sunday that Sen. Patrick Leahy, D-Vermont, deserved it when Cheney launched the f-word at him in 2004.
CNN: What Obama promised Biden
Before he accepted Barack Obama's offer to join his presidential ticket, Joe Biden got a promise from Obama: that he would be there for "every critical decision," Biden said in an interview broadcast Sunday.
CNN: Obama ups jobs goal to 3 million on bad economic news
President-elect Barack Obama has decided to increase his goal for creating new jobs after receiving economic forecasts that suggest the economy is in worse shape than had been predicted, two Democratic officials told CNN.
CNN: Minnesota Senate recount to resume this week
With somewhere between 1,000 and 2,000 ballots left to be processed, the recount in Minnesota's U.S. Senate race will resume this week and likely will not be resolved until the end of the month, Minnesota Secretary of State Mark Ritchie said Sunday.
CNN: Biden as 'Working Families Czar'
Come Inauguration day, newly minted Vice President Joe Biden will add one more task to his job title: working families czar, so-to-speak.
FULL POST