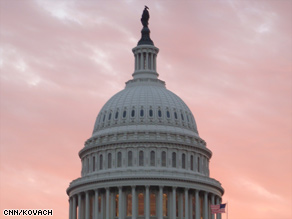 CNN: Iraqi shoe thrower in court next week, brother says
The trial of a reporter charged with throwing his shoes at President Bush during a news conference will begin next week, according to the reporter's brother.
CNN: Cheney: Senator deserved the f-word
Vice President Dick Cheney said Sunday that Sen. Patrick Leahy, D-Vermont, deserved it when Cheney launched the f-word at him in 2004.
CNN: What Obama promised Biden
Before he accepted Barack Obama's offer to join his presidential ticket, Joe Biden got a promise from Obama: that he would be there for "every critical decision," Biden said in an interview broadcast Sunday.
CNN: Obama ups jobs goal to 3 million on bad economic news
President-elect Barack Obama has decided to increase his goal for creating new jobs after receiving economic forecasts that suggest the economy is in worse shape than had been predicted, two Democratic officials told CNN.
CNN: Minnesota Senate recount to resume this week
With somewhere between 1,000 and 2,000 ballots left to be processed, the recount in Minnesota's U.S. Senate race will resume this week and likely will not be resolved until the end of the month, Minnesota Secretary of State Mark Ritchie said Sunday.
CNN: Biden as 'Working Families Czar'
Come Inauguration day, newly minted Vice President Joe Biden will add one more task to his job title: working families czar, so-to-speak.

CNN: Clinton campaign debt now at $6.4 million
Secretary of State-designate Hillary Clinton had $6.4 million in presidential campaign debt at the end of November, according to a report filed Saturday with the Federal Election Commission.
CNN: Biden: The economy is 'in much worse shape than we thought'
Vice president-elect Joe Biden told an interviewer the nation's economy "is in much worse shape than we thought it was in," and the immediate goal is to pass another stimulus package to prevent it from "absolutely tanking."
CNN: Obama names science and technology team
President-elect Barack Obama named his science and technology team Saturday with a pledge to ensure that "facts and evidence are never twisted or obscured by politics or ideology."
CNN: Big inauguration comes with a big price tag
When President-elect Barack Obama takes the oath of office next month, the nation's capital will be the site of a massive celebration. But local officials are worried they might get stuck with the check.
Washington Post: Inauguration Day Crowd Estimate Reduced by Half
Officials are casting doubt on an early projection that 4 million to 5 million people could jam downtown Washington on Inauguration Day, saying it is more likely that the crowd will be about half that size.
Washington Post: Secret Tapes Helped Build Graft Cases In Illinois
The wide-ranging public corruption probe that led to the arrest of Illinois Gov. Rod Blagojevich got its first big break when a grandmother of six walked into a breakfast meeting with shakedown artists wearing an FBI wire.
Washington Times: 'Obama girl' inspires Israeli imitator
Trying to replicate the popularity of the "Obama girl" video that played on YouTube during the recent U.S. presidential campaign, a backer of Foreign Minister Tzipi Livni has produced a knockoff that injects sexual innuendo into her bid to become Israel's second female prime minister.
Washington Times: Inaugural ban on strollers, chairs has some backing out
No strollers near the Capitol. No tents on the Mall. None of that Silly String on the parade route.
NYT: For Conservative Radio, It's a New Dawn, Too
Amid all the pressures on the radio industry, news-talk stations see an opportunity — and his name is Barack Obama.
LA Times: Senate openings pose quandaries for governors
Blagojevich isn't the only one charged with filling a spot: In Delaware, New York and Colorado, governors face political pressure and strategic considerations as they choose among would-be senators.