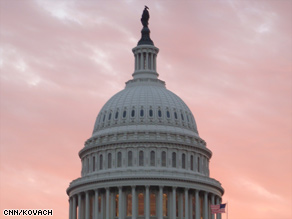 CNN: Obama and Blagojevich: 'A lot about nothing,' sources say
Two Democratic officials are predicting that the long-awaited report about aides to President-elect Barack Obama alleged contact with the office of embattled Illinois Gov. Rod Blagojevich will largely exonerate Obama's transition team.
CNN: Why some women's groups are miffed at Obama
What's made up of five women, four African-Americans, three Latinos, two Republicans and two Asians, including a Nobel Prize winner?
CNN: Biden to chair economic transition team meeting
Vice President-elect Joe Biden will chair a meeting of the presidential transition team's top economic advisers on Tuesday, as the incoming administration tries to craft and sell an expected $775 billion economic recovery package to Congress, CNN learned.
CNN: Poll: Public OK with auto bailout, but no more aid
A new national poll Monday finds a majority of Americans approve of recent loans to big U.S. automakers, but less than 3 in 10 would support additional assistance.
CNN: Palin's biggest campaign regret: Not enough media interviews
Former Republican vice presidential candidate Sarah Palin's biggest mistake of the presidential campaign: not enough time with the media, the Alaska governor said in an interview published Monday.
CNN: Biden has some sympathy for Bush — but none for Cheney
Joe Biden says he has some sympathy for George Bush after the president became the target of a shoe-throwing Iraqi journalist – but the Vice president-elect struck a tougher tone on Dick Cheney, the man he is set to replace.

CNN: Poll: One in five think Cheney is worst VP in U.S. history
A new national poll suggests that one of out of five Americans think that Dick Cheney is the worst vice president in American history.
CNN: Chelsea Clinton fundraises for father's foundation
After hitting the campaign trail for her mother's 2008 presidential bid, former first daughter Chelsea Clinton is again appealing to Sen. Hillary Clinton's supporters — but this time, the former first daughter is soliciting donations on her father's behalf.
CNN: Poll finds public split on Obama aides' contacts with Blagojevich
A new national poll indicates Americans are split on whether aides to President-elect Barack Obama did something inappropriate in their contacts with embattled Illinois Gov. Rod Blagojevich.
CNN: Obama transition sees eye-popping 300,000 resumes
Just weeks after opening shop, the Obama transition team has been flooded by what looks like an unprecedented wave of hundreds of thousands of resumes from people who want positions in the new president's administration.
CNN: Michelle Obama's urban chic heads to D.C.
Michelle Obama turned the campaign trail into a runway this year, sporting eye-catching colors and feminine cuts that sent fashion bloggers buzzing.
NYT: Amtrak Beefs Up Inauguration Day Service
Amtrak is adding extra trains to go in and out of Washington on Inauguration Day.
The trains will be added on the Northeast Corridor between Washington and Boston, making it easier for people who do not have hotel reservations or a place to stay to get to Washington, see Barack Obama be sworn in, and go home that same day.
NYT: Kennedy Declines to Make Financial Disclosure
If she were applying to be, say, an undersecretary of education in Barack Obama's new administration, Caroline Kennedy would have to fill out a 63-item confidential questionnaire disclosing potentially embarrassing text messages and diary entries, the immigration status of her household staff, even copies of every résumé she used in the last 10 years.
Washington Post: Whistleblower Faults Prosecution's Conduct in Stevens Case
Members of the Justice Department team that investigated and tried Sen. Ted Stevens (R-Alaska) withheld evidence and had inappropriate relationships with witnesses, according to an FBI agent who worked on the case.