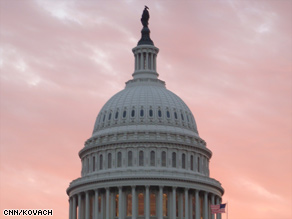 CNN: Bush pardons 19, commutes sentence of meth dealer
President George W. Bush granted pardons Tuesday to 19 citizens charged with a variety of crimes, but none was prominent.
CNN: Biden to chair economic transition team meeting
Vice President-elect Joe Biden will chair a meeting of the presidential transition team's top economic advisers on Tuesday, as the incoming administration tries to craft and sell an expected $775 billion economic recovery package to Congress, CNN learned.
CNN: Former Clinton aide to advise Bloomberg re-election bid
Howard Wolfson, Hillary Clinton's former communications director, will be a top strategist for New York City Mayor Michael Bloomberg's re-election effort.
CNN: Obama to take oath of office using Lincoln Bible
The Obama transition team announced Tuesday morning that the president-elect would be sworn in with the Lincoln Bible, used by 16th president when taking the oath of office in 1861 (Full statement released Tuesday follows):
CNN: Obama: Put the journalists' beer on my tab
Many Republicans already believe President-elect Barack Obama has gotten a free ride from the national media, so they may not be happy to learn the incoming Commander-in-Chief offered to buy a round of drinks for reporters covering his working vacation on the sands of Hawaii's beaches and the greens of its lush golf courses.

CNN: Obama interviewed by feds in Illinois corruption probe
An internal report compiled by the Obama transition team states that President-elect Barack Obama was interviewed by the office of U.S. Attorney Patrick Fitzgerald as part of Fitzgerald's criminal probe into embattled Illinois Gov. Rod Blagojevich.
CNN: Internal Obama report: No inappropriate contacts with Blagojevich
An internal report compiled by the Obama transition team concludes that neither President-elect Obama nor his aides — including incoming Chief of Staff Rahm Emanuel — had any "inappropriate" contacts with embattled Illinois Gov. Rod Blagojevich or Blagojevich's staff.
CNN: Most Americans support Obama's $800 billion stimulus plan, poll finds
A new national poll suggests that most Americans favor an economic stimulus package even if it comes with an $800 billion price tag, but that support doesn't indicate that the public wants to see a new era of big government.
CNN: Post-Prop 8, public opinion on same-sex marriage unchanged
How have the aftershocks of California's Proposition 8 — the legal challenges to the states same-sex marriage ban, the protests and boycotts, the controversy that greeted President-elect Obama's decision to invite evangelical minister Rick Warren to deliver the invocation at his inauguration –- affected national public opinion on the issue?
CNN: A long lens photo stirs debate
For the Obama family, vacations will never be the same.
CNN: Biden: No earmarks in the Obama stimulus
Vice President-elect Joe Biden pledged Tuesday that there would be no earmarks in the stimulus plan that he and President-elect Barack Obama are proposing to jump-start the economy.
Washington Times: Climate czar left no electronic trail
Don't bother looking for any electronic records of Carol Browner's first stint as a federal government executive. The soon-to-be Obama administration climate czar intentionally didn't keep many. In sworn testimony obtained by The Washington Times, Ms. Browner disclosed that she refused to use e-mail when she served as President Clinton's Environmental Protection Agency chief in the 1990s for fear of leaving a digital trail.
Washington Post: OpEd Jon Corzine: Only a Bold Stimulus
When New York Gov. Franklin Delano Roosevelt delivered a commencement address at Oglethorpe University in May 1932, the economic crisis that had befallen the United States three years earlier had already morphed into the Great Depression: One in four Americans was out of work, banks were failing at a rate of 10 per week and the gross national product was at half its pre-crash level.
Washington Post: Kaine Relative Eyed for U.S. Attorney Job
Virginia Gov. Timothy M. Kaine's brother-in-law is among the candidates for U.S. attorney in Alexandria, a key law enforcement job that is supposed to be free of political considerations, legal and political officials said yesterday.