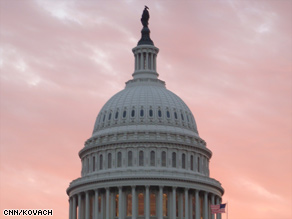 CNN: On the Twelfth Christmas Dinner at Camp David
This Christmas is the last at Camp David for President George Bush and his wife Laura. The president and his family will celebrate their twelfth Christmas at the presidential retreat — four when his father George H.W. Bush was president and eight during his own two terms as president.
CNN: Poll: America's honeymoon with Obama continues
Call it a love affair so far between Barack Obama and the American people.
CNN: Bush orders pardon re-examined
President Bush on Wednesday ordered one of 19 presidential pardons granted earlier in the week to be re-examined.
CNN: Obama picks Bible for inauguration, but what verse?
While President-elect Barack Obama will certainly be making history when he takes the oath of office on January 20, he'll also be repeating it - by placing his hand on the same Bible Abraham Lincoln used during the inauguration of 1861.
CNN: Poll: Illinois governor named naughtiest politician of 2008
A new national poll suggests Illinois Gov. Rod Blagojevich could be on the top of Santa's naughty list.
FULL POST