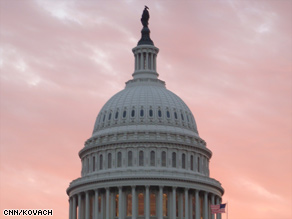 CNN: On the Twelfth Christmas Dinner at Camp David
This Christmas is the last at Camp David for President George Bush and his wife Laura. The president and his family will celebrate their twelfth Christmas at the presidential retreat — four when his father George H.W. Bush was president and eight during his own two terms as president.
CNN: Poll: America's honeymoon with Obama continues
Call it a love affair so far between Barack Obama and the American people.
CNN: Bush orders pardon re-examined
President Bush on Wednesday ordered one of 19 presidential pardons granted earlier in the week to be re-examined.
CNN: Obama picks Bible for inauguration, but what verse?
While President-elect Barack Obama will certainly be making history when he takes the oath of office on January 20, he'll also be repeating it - by placing his hand on the same Bible Abraham Lincoln used during the inauguration of 1861.
CNN: Poll: Illinois governor named naughtiest politician of 2008
A new national poll suggests Illinois Gov. Rod Blagojevich could be on the top of Santa's naughty list.

CNN: Coleman camp loses key Minnesota Supreme Court decision
The season just got a bit less jolly for Minnesota Sen. Norm Coleman: in a Christmas Eve decision, the Minnesota Supreme Court unanimously rejected a lawsuit calling for recount changes that would have erased Democratic challenger Al Franken's narrow lead.
CNN: White House announces 24 new appointments
Christmas came a few hours early for two dozen White House officials and supporters Wednesday, who were appointed to three- to six-year positions on government committees and councils.
CNN: Pat Robertson criticizes Bush, praises Obama
Pat Robertson is "remarkably pleased" with President-elect Barack Obama, the conservative leader told CNN's Suzanne Malveaux – and believes President Bush's administration has not dealt with the nation's economic crisis in a "professional manner."
CNN: Obama radio address remembers troops, unemployed
President-elect Barack Obama's holiday radio address pays tribute to troops serving overseas, and to those struggling amid the nation's economic woes.
CNN: Ready to put 2008 in the rearview mirror? Not so fast, says JibJab
For many, 2008 can't end soon enough — but JibJab's bringing us one last stroll down memory lane. Baby New Year '08 takes you on a tour of all of the good, bad, and worst the past year had to offer, all at breakneck speed.
Washington Post: Kennedy Endures Rough Start in Bid for Senate Seat
Caroline Kennedy, who is seeking appointment to New York's soon-to-be-vacant U.S. Senate seat, is facing sharp criticism from rivals, intense scrutiny from the media and disparagement over everything from refusing to disclose her finances to not voting in some past elections.
NYT: Obama's Zen State, Well, It's Hawaiian
Even at the end of his long journey to win the White House, one question about Barack Obama came up again and again: How did he appear to stay even-tempered and levelheaded while traveling such a grueling road?
Washington Times: Obama 'repressing inner geek'
Get ready for the geek in chief.
President-elect Barack Obama used to collect comic books, can't part with his BlackBerry, and once flashed Leonard "Mr. Spock" Nimoy the Vulcan "Live Long and Prosper" sign.
Chicago Tribune: Festivus display at Illinois Capitol
The debate over religious displays in the Illinois Capitol's rotunda took a farcical turn this week when a student at a Lake Forest boarding school put up an aluminum pole to honor Festivus.