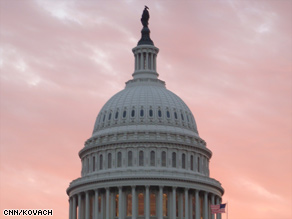 CNN: One in 4 candidates ended the campaign season in debt
Hillary Clinton isn't the only former candidate still fundraising long after Election Day: an analysis released this week found that one out of every four prospective officeholders this year ended the campaign season in the red.
CNN: Obama picks Bible for inauguration, but what verse?
While President-elect Barack Obama will certainly be making history when he takes the oath of office on January 20, he'll also be repeating it — by placing his hand on the same Bible that Abraham Lincoln used during the inauguration of 1861.
CNN: Obama's intelligence choice
CNN's Barbara Starr reports on the challenges facing Barack Obama's pick as director of national intelligence.
CNN: Bush re-examines pardon
President Bush ordered one of 19 presidential pardons issued this week to be re-examined. CNN's Elaine Quijano reports.
CNN: New inauguration plans place thousands of additional buses in DC
Big sections in the heart of Washington, D.C. will be converted into giant parking lots next month, with District officials are now planning to allow as many as 10,000 charter buses — carrying an estimated 200,000 passengers — to park in the city itself for the presidential inauguration, the Washington Post reported Thursday.

CNN: Bush announces new appointments for 24 aides and supporters
Christmas came a few hours early for two dozen White House officials and supporters Wednesday, who were appointed to three- to six-year positions on government committees and councils.
CNN: Obama Christmas to include turkey and ham dinner
President-elect Barack Obama's traditional Hawaiian Christmas includes opening presents with his family this morning, and dining on turkey and ham tonight.
CNN: Schneider: Obama's 'honeymoon' follows Bush's 'failed marriage'
How's the honeymoon going?
Very well. In fact, better than the country's previous honeymoons.
CNN: Energy industry braces for Obama
Despite praising it publicly, the energy industry is wary of President-elect Barack Obama's incoming energy team which will likely call for major changes in the country's energy plan.
USA TODAY: Text message led to arrest of Palin's boyfriend's mom
The mother of Bristol Palin's boyfriend sent text messages to two police informants discussing drug transactions before her arrest on felony drug charges, authorities say.
NYT: Expansion of Clinics Shapes a Bush Legacy
Although the number of uninsured and the cost of coverage have ballooned under his watch, President Bush leaves office with a health care legacy in bricks and mortar: he has doubled federal financing for community health centers, enabling the creation or expansion of 1,297 clinics in medically underserved areas.
Washington Times: Groups spend millions in 'clean coal' ad war
Interest groups spending tens of millions of television ad dollars in a fight over carbon emissions and the existence of "clean coal."
LA Times: Food safety reform waits on back burner
Despite calls from the incoming Obama administration to bolster the embattled Food and Drug Administration, the agency is unlikely to see major reform soon as bigger problems with higher profiles once again shoulder aside food safety in the competition for resources.