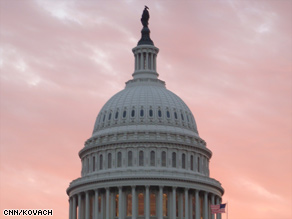 CNN: Rice: People will soon thank Bush for what he's done
Secretary of State Condoleezza Rice said that despite President Bush's low approval ratings, people will soon "start to thank this president for what he's done."
The Hill: RNC members call unprecedented special meeting
For the first time in party history, members of the Republican National Committee have called their own unscheduled meeting without the aid of the Washington-based party apparatus.
CNN: Panel investigating Blagojevich won't subpoena Obama advisers
After being told by prosecutors that their testimony could jeopardize the ongoing criminal investigation, the Illinois House panel considering impeachment charges against Gov. Rod Blagojevich will not subpoena advisers to President-elect Barack Obama, the panel's chairwoman said Sunday.
CNN: Laura Bush 'wasn't amused' by shoe incident
First Lady Laura Bush said that although she "wasn't amused" when an Iraqi journalist threw shoes at her husband, she sees the incident as a sign that "Iraqis feel a lot freer to express themselves."
CNN: Obama closely monitoring Gaza, adviser says
The president-elect's senior adviser said that while Barack Obama is monitoring the situation in Gaza closely, "the fact is that there is only one president at a time."

CNN: Talking Politics
From Illinois Gov. Rod Blagojevich's troubles to Caroline Kennedy's Senate aspirations, CNN's Paul Steinhauser has a round up of the latest political news.
Washington Post: McAuliffe's Prowess As Fundraiser Grabs Spotlight in Va. Race
With his booming voice, quick wit and gregarious nature, Terry McAuliffe established a reputation as one of the world's best political fundraisers, soaking up hundreds of millions of dollars for Democratic causes and candidates.
Washington Times: Labor's 'priority' on back burner
Labor unions invested heavily in Barack Obama's presidential victory, but the return on their investment may be awhile in coming.
Washington Times: How normal will life be for Obama girls?
They're only 10 and 7, but already designers are angling to dress them. They've been on the cover of People and Us Weekly. And there's that standing invitation – unlikely though it is to be redeemed – to the set of "Hannah Montana."
Politico: Obama bristles as the bubble closes in
The media glare, the constant security appendage and the sheer production that has become a morning jog or a hankering for an ice cream cone – it's been closing in on Barack Obama for some time.
Washington Post: Californians Shape Up as Force on Environmental Policy
California Democrats will assume pivotal roles in the new Congress and White House, giving the state an outsize influence over federal policy and increasing the likelihood that its culture of activist regulation will be imported to Washington.