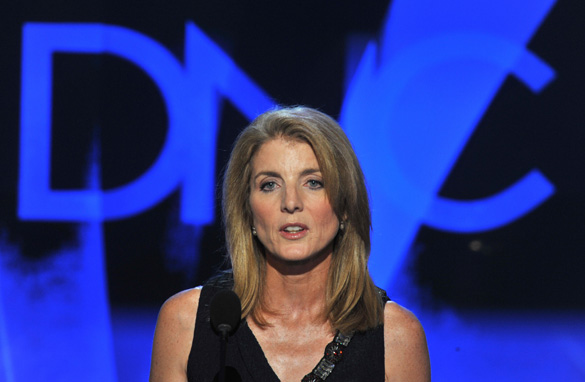 Women are more likely than men to see Caroline Kennedy as qualified to be New York's next senator, according to a new CNN/Opinion Research Corp. poll released Monday. (Getty Images/File)
(CNN) - A new national poll suggests that men and women don't see eye to eye on the question of whether Caroline Kennedy is qualified to serve as a U.S. senator.
Just over half of all Americans questioned in a CNN/Opinion Research Corporation survey released Monday say that Kennedy is qualified to be a senator: 52 percent say she is, and 42 percent disagree.
Watch: 'Maybe that day is now,' Kennedy says of seeking political office
But the poll also indicates there's a gender gap, with 57 percent of women saying Kennedy is qualified. That number drops to 47 percent among men, with 46 percent of male respondents saying Kennedy is not qualified.
"Men may think of qualifications for public office in terms of work experience, while women may be looking at a candidate's life experience," says CNN Polling Director Keating Holland. "Caroline Kennedy has a personal history that may be compelling to many women, but her resume is not very long, and that may be a mark against her to some men."
Kennedy is one of the candidates hoping to replace Hillary Clinton as New York's junior senator if the secretary of state-designate is confirmed by the Senate as expected next month. New York State Gov. David Paterson, who has the sole responsibility to replace Clinton, has been the target of intense lobbying efforts by would-be senators in recent weeks. Whoever he picks would serve for two years before running in a special election in 2010. If the candidate won that contest, he or she would have to run again in 2012, when Clinton's current term ends.
Paterson is a Democrat, so there's no question that the seat will remain in in the party's hands.
Kennedy, daughter of the late President John F. Kennedy and niece of longtime Massachusetts Sen. Ted Kennedy, has received the most media attention — and, since she's never run for or served in public office, the most scrutiny as well.
The new CNN/ORC poll suggests that the gender gap is not the only division among Americans when it comes to Kennedy - Americans are divided by party as well, says Holland, with 61 percent of Democrats and only 39 percent of Republicans calling her qualified.
When then-first lady Hillary Clinton initially considered a run for this Senate seat in 1999 — her first campaign for public office - 62 percent of all Americans thought she was qualified to be a senator. Clinton faced an even bigger gender gap, says Holland: 60 percent of men in 1999 thought she was qualified, and 77 percent of women felt the same way.
The CNN/Opinion Research Corporation poll was conducted December 19-21, with 1,013 adult Americans questioned by telephone. The survey's sampling error is plus or minus 3 percentage points.