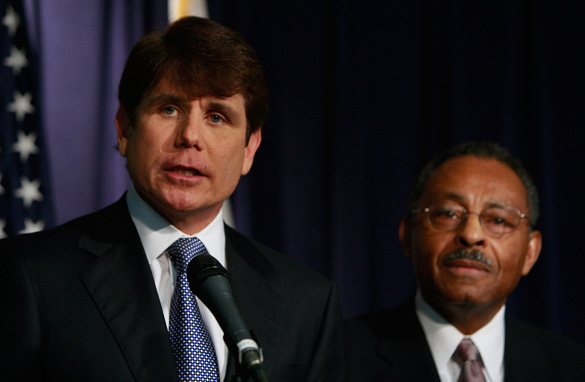 Illinois Gov. Rod Blagojevich announced Tuesday that he will appoint Roland Burris to fill the U.S. Senate seat vacated by Barack Obama. (Getty Images)
CHICAGO, Illinois (CNN) - Illinois Gov. Rod Blagojevich named former Illinois Atty. Gen. Roland Burris on Tuesday to replace President-elect Barack Obama in the U.S. Senate, calling him a "wise and distinguished senior statesman" with "unquestioned integrity."
Watch: Blagojevich names Burris
FBI agents arrested Blagojevich on December 9 after federal prosecutors alleged, among other things, that he had tried to "sell" Obama's former Senate seat. Blagojevich denies any wrongdoing.
Burris does not have to be formally approved by the Senate to be appointed by Blagojevich. But the Senate could refuse to seat Burris or seat him and investigate the manner in which he was appointed, and unseat him if they discover any wrongdoing.
Watch: Burris accepts Senate nod
Senate Majority Leader Harry Reid, D-Nevada, has threatened not to seat anyone the governor appoints, and has called for the Illinois Democrat to step down.
Updated 3:11 p.m.