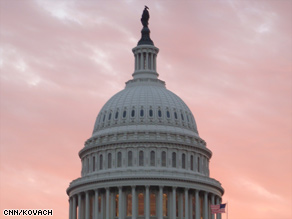 CNN: Caroline Kennedy says she's best for the job
After weeks of criticism that she was being too elusive, Senate hopeful Caroline Kennedy is now talking about why she believes she is the best person for the job.
CNN: Obama could inherit Gaza crisis
As the violence rages in Gaza, President Bush is putting the blame squarely on Hamas, while President-elect Barack Obama is keeping a low profile and sticking by his belief that "there is only one president at a time."
CNN: GOP reaction divided over controversial Obama song
Republican Party reaction is divided over the decision of a candidate for party chairman to distribute a CD that features the parody tune "Barack the Magic Negro," with the majority of Chip Saltsman's political rivals criticizing the move.
CNN: First-of-its-kind RNC meeting to be held in Washington
Members of the Republican National Committee are planning to hold a Washington forum for candidates to lead the party – the first time they have held an official meeting not arranged by the national party.
CNN: Prosecutors may release some Blagojevich tapes to IL lawmakers
U.S. Attorney Patrick Fitzgerald is seeking court approval to provide Illinois lawmakers with partial tapes of four of Gov. Rod Blagojevich's wiretapped phone conversations.

CNN: Emanuel tenders House resignation letter to Blagojevich
President-elect Obama's team, which spent weeks documenting chief of staff Rahm Emanuel's contact with Rod Blagojevich, got another entry for the list Monday, when the Illinois congressman sent a resignation letter to his state's embattled governor.
CNN: Poll: Gender gap over Caroline Kennedy's Senate run
A new national poll suggests that men and women don't see eye to eye on the question of whether Caroline Kennedy is qualified to serve as a U.S. senator.
CNN: Muslim coalition requests more inclusion in new administration
The American Muslim Taskforce for Civil Rights and Elections called on President-elect Barack Obama for greater Muslim outreach during his administration as well as assisting in ending the deteriorating situation in Gaza and the Middle East.
Washington Post: Hargrove Keeps Job as Presidential Party Host
Since 1993, when the Presidential Inaugural Committee began designating one company to oversee all the major events that come with the swearing in of a new president, only one company has won the work.
Washington Times: EXCLUSIVE: RNC set to rip (Bush's) bailouts
In what would amount to a slap in the face to a sitting Republican president and the party's Senate and House leaders, national GOP officials, including the vice chairman of the Republican National Committee, are sponsoring a resolution opposing the resort to "socialist" means to save capitalism.
Washington Post: Ticket Holders Urged to Walk or Take Metro
The committee overseeing the Jan. 20 presidential swearing-in at the U.S. Capitol issued its first formal advice yesterday to ticketed guests, emphasizing the desirability of walking or using Metro.
NYT: Rapper Jay-Z to Headline Weekend Inaugural Club Party
The Brooklyn rapper Jay-Z, whose lyrics President-elect Barack Obama channeled on the campaign trail in a swipe at his former rival, Senator Hillary Rodham Clinton, will headline an inaugural weekend opening party in Washington.
NYT: Little Town Beseeches Obama's Health Chief
Former Senator Tom Daschle, whom President-elect Barack Obama has called the "lead architect" of the new administration's efforts to expand health insurance and rein in medical costs, attended a community meeting Monday where he got an earful about expenses that were too high and coverage that was too little.
USA TODAY: Obama inauguration committee seeks essayists, donors
The hottest ticket in town — a chance to witness President-elect Barack Obama's inauguration — will be the jackpot in an essay contest being announced today by the Presidential Inaugural Committee. In exchange, participants will be encouraged to donate to the inauguration, though organizers say that is not required.