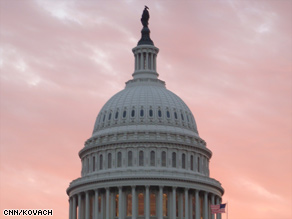 CNN: Obama family to move to DC this weekend, say aides
The Obama family is planning to move to Washington this weekend, say two transition officials. "They will stay at a Washington hotel through the 15th and then they will move into the Blair House," said the first official.
CNN: Obama chides Illinois governor's decision to fill Senate seat
President-elect Barack Obama said Tuesday it is disappointing that Illinois Gov. Rod Blagojevich ignored warnings from Senate Democrats about appointing a successor to his Senate seat.
CNN: Lobbyist linked to McCain sues NY Times for $27 million
A lobbyist who was romantically linked to Sen. John McCain in a New York Times article has sued the paper for $27 million, saying the story has damaged her career and "sense of personal self-worth."
CNN: Inaugural committee unveils contest to win swearing-in tickets
The presidential inaugural committee has borrowed a page from the president-elect's campaign playbook, offering donors the chance to enter a lottery so they can be on hand for the big event — and now, an essay contest that promises the same chance for those who keep their purse-strings closed.
CNN: Road to stimulus: Speed bumps ahead
Democratic lawmakers want to pass a far-reaching bill to save the economy by Inauguration Day on Jan. 20.
CNN: Blagojevich pick has long political history
Illinois Gov. Rod Blagojevich's pick to fill Barack Obama's empty U.S. Senate seat was the first African-American to be elected to statewide office in Illinois, winning the first of three terms as comptroller in 1978.

CNN: Returned Kennedy donation explained
Caroline Kennedy's $2,300 donation to Hillary Clinton's presidential campaign was not returned because of her decision to endorse Barack Obama in the Democratic primary, a Clinton aide told CNN — it was sent back because the New York senator's loss meant she would not be able to keep funds that had been contributed for her general election campaign.
CNN: Inauguration organizers describe day-long endurance test
There are still a host of question marks around next month's inauguration festivities, but one thing is undeniable: the day may be geared less to your average middle schooler, and more to a field-tested U.S. Marine.
CNN: Sources: Senate Democrats to block Burris appointment
Two Democratic officials tell CNN Senate Democratic leaders are planning to block Gov. Rod Blagojevich's appointment of Roland Burris to the Senate seat once held by President-elect Obama.
CNN: GOP to Dems: Slow down on stimulus bill
Top congressional Republicans cautioned Democrats not to rush through a massive stimulus package that lawmakers hope to send to President-elect Barack Obama shortly after he takes office next month.
Boston Globe: With Obama, D.C. residents hope for a voice
In recent years, residents of this city – the "last colony," some call it – have resorted to political theater in their fight for representation in Congress. They dumped tea into the Potomac River. They sarcastically petitioned for reunification with Britain. They produced license plates that proclaimed they lived in a place of "Taxation Without Representation," which President Bush refused to put on his limousine.
WSJ: Gonzales Defends Role in Antiterror Policies
Alberto Gonzales, who has kept a low profile since resigning as attorney general nearly 16 months ago, said he is writing a book to set the record straight about his controversial tenure as a senior official in the Bush administration.
Anchorage Daily News: Claman takes over as mayor Saturday
First time for everything, and for city government in Anchorage it starts Saturday morning. Mayor Mark Begich plans to resign at 11 a.m. that day, in time to fly to Washington, D.C., and be sworn in Tuesday as Alaska's new U.S. senator. That will mark the first time that the municipality's mayor has ever resigned before his term was up. City officials were still trying to figure out who, specifically, Begich should resign to - maybe the city clerk.
Washington Times: Kennedy 'you knows' tic off political audiences
If Caroline Kennedy had, you know, only known.
Tracking the would-be New York senator's verbal tics has become a political parlor game in the days since she gave her first round of in-depth interviews, even spawning a hip-hop-style mash-up online blending her "you knows" with President-elect Barack Obama's "uhs."
Washington Post: Degrees of Separation? Not in Illinois Politics.
President-elect Barack Obama spent yesterday afternoon in Honolulu, going to the zoo with his daughters and visiting his high school campus. And yet, he couldn't escape the political melodrama unfolding more than 4,000 miles away.
The Hill: Obama dismisses Bush Pentagon appointees
Despite keeping Defense Secretary Robert Gates in the Pentagon, President-elect Obama's transition team informed 90 Bush appointees their services will not be needed after Inauguration Day.
Scott Gration, a senior official on Obama's transition team, called and emailed several of President Bush's Pentagon appointees about 10 days ago to inform them they were being dismissed.