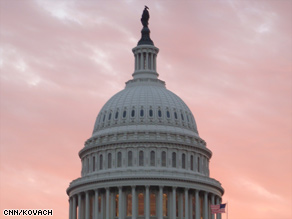 CNN: From Obama-mania to Palin power: 2008's top political stories
From an historic presidential election to a wealth of political scandals, 2008 has been nothing short of extraordinary.
CNN: Chief justice pleads for higher judicial salaries
Chief Justice of the United States John Roberts renewed his call for higher judicial pay on Wednesday, warning of long-term damage to the fabric of the courts.
CNN: Poll: Obama leadership rates high as Bush's after 9/11
A national poll suggests that three-quarters of the public thinks President-elect Barack Obama is a strong and decisive leader, the highest marks for a president-elect on that characteristic in nearly three decades.
CNN: Blagojevich's pick has résumé chiseled in stone
Anyone who doubts Roland Burris' qualifications to serve as the next senator from Illinois may want to head to Chicago's Oak Woods Cemetery.
CNN: Blagojevich playing a game of racial 'chicken'?
Gov. Rod Blagojevich's pick of a prominent African-American to succeed Barack Obama in the Senate has led to suggestions that the move is calculated, but the governor says he's just doing his job.

CNN: People.com: Bristol and Levi 'Working Their Butts Off,' says Palin
Alaska Governor Sarah Palin hasn't yet said anything publicly about her 4-day-old grandson, Tripp, but she does want people to know that Tripp's parents – her eldest daughter Bristol and her fiancé Levi Johnston – are hard at work and keeping up with school.
CNN: Lawsuit seeks to stop religious references at inauguration
A number of atheists and non-religious organizations want Barack Obama's inauguration ceremony to leave out all references to God and religion.
CNN: Coleman again taking recount to court
Attorneys with Norm Coleman's Senate campaign on New Year's Eve are again asking Minnesota's high court on the issue of improperly rejected absentee ballots in the state's still unresolved race between the Republican incumbent and Democrat Al Franken.
CNN: Podcast: A look back at the best — and worst — political moments of 2008
Barack Obama won the White House, Sarah Palin appeared on the national political stage, Joe the Plumber stole the campaign spotlight, and sex scandals claimed political careers: just some of the most memorable moments of 2008.
CNN: Senate Dems crafting new plans to block Burris appointment
Senate Majority Leader Harry Reid and other Democratic leaders are devising a plan to block the appointment of Roland Burris to the Senate for weeks in hopes it will prevent Illinois Governor Rod Blagojevich from deciding who fills the seat vacated by President-elect Barack Obama, a Senate Democratic leadership aide told CNN Wednesday.
Washington Post: D.C., Md., Va. Leaders Seek Inaugural Financing
The D.C. mayor and the governors of Maryland and Virginia wrote to the region's congressional delegation yesterday, pleading for help in getting the federal government to pay inauguration costs that could top $75 million.
NYT: Obamabilia for Sale
Selling Barack Obama memorabilia has been lucrative for everyone from souvenir dealers to newspaper publishers to the Franklin Mint.
Washington Post: Bush Interior Dept. Is Giving Itself A Pat on the Back
As President Bush's tenure comes to a close, independent experts and administration insiders are delivering their assessments of his government's performance over the past eight years. Interior Secretary Dirk Kempthorne has posted his own verdict on his department's Web site, and the upshot is that he did great.
Washington Post: Money, Endorsements Old Pals in Va. Politics
When Del. Lionell Spruill Sr. endorsed Jon Bowerbank for Virginia lieutenant governor in the 2009 elections, the news release said just what such announcements are supposed to say: Spruill called Bowerbank the "best Democrat" to take on the incumbent. Bowerbank said he was "humbled."