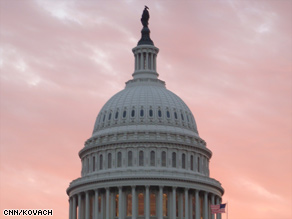 CNN: Analysis: Constitutional fight looms over Senate seat
The U.S. Senate is considered the most exclusive legislative body in the country, and members of its majority say they will not accept Roland Burris - tapped by embattled Illinois Gov. Rod Blagojevich to fill a vacant seat - into their own.
CNN: New secretary of state inherits unpredictable world
The Gaza crisis is an alarm bell for incoming Secretary of State Hillary Clinton, promising a bumpy ride.
CNN: Ex-Sen. Claiborne Pell, proponent of student grants, dies
Former U.S. Sen. Claiborne Pell, who was largely responsible for the Pell grant program for U.S. college students, died Thursday morning at his Rhode Island home, his family said.
CNN: Aides: Democrats have plan if Burris shows up
Senate Democratic leaders think Roland Burris, Illinois Governor Rod Blagojevich's pick to fill President-elect Barack Obama's vacant Senate seat, will likely show up on Capitol Hill Tuesday for the opening day of Congress, according to a Democratic aide familiar with Senate Democratic leaders' plans.
CNN: Kennedy clears political hurdle
Caroline Kennedy appears to have cleared a big hurdle in her quest to replace outgoing New York Sen. Hillary Clinton.

CNN: Obamas checking into hotel steeped in D.C. history
The hotel that will be home to President-elect Barack Obama and his family for the next couple of weeks offers one of Washington's best views of their future home, the White House, and a past linked with political movers and shakers.
CNN: Biden responds to Pell death
Vice President-elect Joe Biden issued a statement Thursday responding to the death of former Sen. Claiborne Pell.
CNN: Sources: Obama to meet with Capitol Hill leadership Monday
President-elect Barack Obama plans to meet with key Capitol Hill leaders on Monday to discuss his economic stimulus plan, according to congressional sources who say precise scheduling is underway.
CNN: Obama to host Commander-in-Chief's ball
President-elect Barack Obama is set to host the Commander-in-Chief's inaugural ball, an event that honors the country's active duty and reserve military.
CNN: Fashion icons behind Obama inauguration merchandise
Even in a recession, Obama merchandise sells — and the Presidential Inaugural Committee is again looking to fashion icons to cash in, teaming up with designers to raise funds for next month's presidential inauguration.
CNN: Celebs give big bucks to Obama's inauguration
The rich and famous are donating big bucks to Barack Obama's inauguration, CNN's Jim Acosta reports.
Washington Times: Obama faces Mexican drug war
Add another pressing challenge to President-elect Barack Obama's growing to-do list – tamping down a dramatic rise in violence and corruption that has overwhelmed the U.S.-Mexico border and spread an escalating turf fight between warring drug cartels into the United States.
NYT: The Inaugural Poet, Adorned
While the fashion world waits on edge to hear whom Michelle Obama is choosing to dress her for Inauguration Day, there is some fashion news on another inaugural front –the West Front of the Capitol, to be exact.