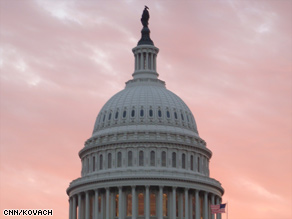 CNN: Bill Richardson bows out of commerce secretary job
New Mexico Gov. Bill Richardson is withdrawing his nomination to be commerce secretary, citing the distraction of a federal investigation into ties to a company that has done business with his state.
CNN: Obama: 'I choked up'
President-elect Barack Obama showed a little of his softer side as he said his goodbyes to Chicago, the city that launched his political career, and headed to Washington to join his wife and two daughters.
CNN: Sources: VA governor tapped for DNC chair
Virginia Gov. Time Kaine has been tapped to serve as chairman of the Democratic National Committee to replace Howard Dean, two Democratic officials told CNN Sunday.
CNN: Leading Democrat: Bush 'the worst president we've ever had'
As the nation prepares for the inauguration of President-elect Barack Obama, a leading Democrat is not letting up in his criticism of President George W. Bush.
CNN: Bush 41: Now probably a 'bad time' for Jeb to run for W.H.
His son hasn't left the White House yet, but former president George H. W. Bush is already thinking about the next Bush who might one day move in.

CNN: Panel to declare Franken winner of Senate race
A state election board on Monday will announce Democrat Al Franken has defeated Republican incumbent Norm Coleman in Minnesota's U.S. Senate race, state officials told CNN Sunday.
CNN: Reid denies trying to nix Black choices to replace Obama
Sen. Majority Leader Harry Reid, D Nevada, took great exception Sunday to suggestions that he does not want another African-American to replace President-elect Barack Obama in the U.S. Senate.
CNN: Transition to Power: Obama flying 'Air Force One' backup
In a sign of just how close he is to formally taking the reigns of power, President-elect Barack Obama is no longer flying commercial.
CNN: Senate Minority Leader urging state loans, tax relief for middle class
Senate Minority Leader Mitch McConnell told CNN what he hopes to get out of the Senate and House bipartisan leadership meeting with Obama on Monday, after his appearance on ABC's 'This Week with George Stephanopoulos."
CNN: Longtime Clinton aide says he'll run for VA governor
After years at the side of Bill and Hillary Clinton, Terry McAuliffe told supporters Saturday night that he intends to run for Virginia's highest political office.
CNN: Reid on Burris: 'We are going to do what we have to do'
Senate Majority Leader Harry Reid, D Nevada, is not pulling any punches in what is increasingly shaping up to be a likely confrontation between Senate Democrats and Roland Burris, who has been named by embattled Illinois Gov. Rod Blagojevich to fill President-elect Barack Obama's Senate seat.
Miami Herald: Miami mayor a dark horse for D.C. job
It's a new year, with a new president, but there's probably not going to be a new title for Miami Mayor Manny Diaz.
Anchorage Daily News: Trooper, union say politics delayed Johnston drug case
A Mat-Su drug investigator and the union representing Alaska State Troopers are alleging political meddling in the Sherry Johnston drug case, including a delay in serving the search warrant because of the November election.
Washington Times: Expect the worst commute for inauguration
On a typical weekday, hundreds of thousands of people commute to the nation's capital, snarling roads and packing subway trains and buses during peak hours.
Denver Post: Tancredo, Allard ride off into political sunset
The way Tom Tancredo sees it, he got to live out a scene from his favorite movie.
Washington Post: Warner Leaves Legacy, Void in Va. Delegation
John W. Warner is a private citizen today. His expansive offices overlooking the Capitol are empty, his loyal staff dispersed, his 30 years in the Senate a fixture of history.
San Francisco Chronicle: Black Bay Area residents to witness history
The inauguration of Barack Obama will have special meaning for many Americans, but African Americans say the swearing in of a black man as president is something they never expected to see, and therefore something many feel compelled to witness firsthand.
Washington Post: Dropping The Ball
After So Many Inaugurations, Parties Suffer a Downhill Role