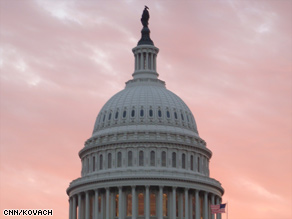 CNN: Bill Richardson bows out of commerce secretary job
New Mexico Gov. Bill Richardson is withdrawing his nomination to be commerce secretary, citing the distraction of a federal investigation into ties to a company that has done business with his state.
CNN: Obama to name Panetta to lead CIA, Blair as intelligence chief
Leon Panetta, chief of staff in President Bill Clinton's White House, will be President-elect Barack Obama's choice to be CIA director, two Democratic officials told CNN on Monday.
CNN: Malia and Sasha's first day of school
CNN: Franken declares Senate race win after state ruling
Democrat Al Franken declared victory in the hotly contested Minnesota Senate race Monday, saying the win is "incredibly humbling."
CNN: Burris: 'I am the legally-appointed senator'
CNN's Wolf Blitzer spoke Monday with Roland Burris, picked by Illinois Gov. Rod Blagojevich to fill President-elect Barack Obama's U.S. Senate seat.
CNN: Secretary of Senate rejects Burris, aide says
Secretary of the Senate Nancy Erickson has rejected Roland Burris' appointment to the Senate, an aide to the secretary told CNN.
CNN: Laura Bush reaches deal to write memoir
First Lady Laura Bush has secured a book deal with Scribner to publish her memoir, which promises to include "intimate" details about her eight years living in the White House.

CNN: Candidates for RNC chair knock Bush, debate party's future
In an unusual moment of candor from a group of high-ranking partisans, the six candidates for Republican Party chairman offered frank criticisms of the Bush administration Monday.
CNN: Biden to take last overseas congressional trip
Vice president-elect Joe Biden will travel to Southwest Asia later this week on his final overseas trip as a sitting member of Congress.
CNN: Feinstein slams Obama CIA head pick
Sen. Dianne Feinstein, the Senate's incoming Intelligence committee chair, slammed President-elect Barack Obama's choice of Leon Panetta as director of the CIA Monday.
CNN: Blagojevich sets special election dates for Emanuel seat
Gov. Rod Blagojevich set a spring date Monday for a special election to fill the congressional seat formerly held by Obama chief of staff Rahm Emanuel.
CNN: Pentagon transition team transitions
Members of the President-elect's transition team at the Pentagon have completed their reviews and reports and are no longer working in the building, making way for the next wave of Obama staffers to come in, according to Pentagon officials.
Chicago Tribune: Kirk eyes Senate seat
North Shore Republican Rep. Mark Kirk said today that he had been "looking hard" at running in a special election for the U.S. Senate seat held by President-elect Barack Obama before Democrats pulled the plug on the idea.
Detroit News: Cockrel chooses Obama team
An army of national political consultants that helped Barack Obama win the presidency will be working with Mayor Kenneth Cockrel Jr.'s campaign to help him hold off a flurry of tough competition in next month's special election.
Anchorage Daily News: Troopers union backs off on allegations
The union representing state troopers has backed off allegations that a drug investigation of Sherry Johnston was slowed down last fall to shield the national candidacy of Gov. Sarah Palin.
NYT: The Pleasure of His Company
On the evening of Nov. 20, 1992, as a well-dressed crowd buzzed and mingled at the Georgetown mansion of Pamela Harriman, the smiling, gray-haired guest of honor raised a Champagne glass.
Washington Times: Blacks lead both houses, a first for nation
Terrance Carroll and Peter C. Groff can be forgiven if they're secretly annoyed with the president-elect for stealing their thunder. The two Coloradans are about to make history as the first blacks to preside over both houses of a state legislature in the same session.