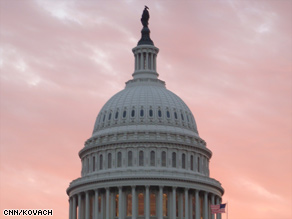 CNN: Sources: CNN's Gupta approached for surgeon general
The Obama transition team approached Dr. Sanjay Gupta, CNN's chief medical correspondent, about becoming U.S. surgeon general, according to sources inside the transition and at CNN.
CNN: Obama will ban earmarks from stimulus bill
Members of Congress won't be allowed to slip earmarks into the economic recovery package Congress will soon take up, President-elect Barack Obama said Tuesday.
CNN: Troops won't get Purple Heart for stress disorder
The Purple Heart medal, awarded to service members who have been physically wounded in combat, will not be given for a diagnosis of post-traumatic stress disorder, a Pentagon statement said.
CNN: New Congress begins with stimulus at top of agenda
The first session of the 111th Congress officially convened at noon Tuesday, with the troubled economy at the top of its agenda.
CNN: Borger: An Obama team oops on CIA pick?
It had to happen, and it did.
CNN: Feinstein says Burris should get Senate seat
Outgoing Senate Rules Committee Chairman Dianne Feinstein said Tuesday she disagrees with her Democratic leadership's move to block Roland Burris from being seated in the U.S. Senate.
CNN: Obama's wheels: Secret Service to unveil new presidential limo
As a candidate, Barack Obama promoted hybrid cars.

CNN: Bush makes last-minute appointments
President Bush made another round of last-minute appointments Tuesday, giving 45 aides, supporters and others a parting gift as he leaves office: presidential appointments to boards and councils, with terms lasting three to six years after he leaves office.
CNN: Ferrell taking Bush spoofs to Broadway, HBO
Will Ferrell, the man who invented "strategery" and other Bushisms, is taking his spoofs of the 43rd president to Broadway and HBO.
CNN: Burris' unpunched ticket to replace Obama
Roland Burris was turned away from the Senate floor Tuesday as he sought to be sworn-in as the junior senator from Illinois, because the Secretary of the Senate said his certificate was not valid.
CNN: Obama to announce new reform post
President-elect Barack Obama on Wednesday will announce his selection for the role of "chief performance officer," a newly created position that will work to scrub the federal budget and reform government, a Democratic official told CNN.
CNN: Jeb Bush not running for Senate
Former Florida Gov. Jeb Bush, President Bush's younger brother, has decided he will not seek Florida's open senate seat in 2010, setting off what's sure to be a wide-open and hotly contested battle to replace Republican Sen. Mel Martinez.
CNN: Biden calls failure to consult with Feinstein on Panetta a 'mistake'
Vice president-elect Joe Biden said Tuesday that the transition team's failure to consult with incoming Senate Intelligence Committee chair Dianne Feinstein about the decision to tap Leon Panetta as head of the CIA had been a "mistake."
CNN: Burris had 'extremely gracious' meeting with Senate's Sec'y
Illinois Senate Appointee Roland Burris doesn't give up easily. Burris came to Capitol Hill Tuesday in order to be sworn in as Illinois' junior senator. Instead, Burris and his advisers ended up having a short meeting with several Senate officials.
CNN: Coleman files suit over Minnesota election results
Former U.S. Sen. Norm Coleman has officially filed a lawsuit to contest the state canvassing board's decision to certify results of the statewide recount which put Democrat Al Franken on top.
CNN: Al Qaeda report blames U.S. for Gaza violence
An audio message reportedly from al Qaeda's deputy chief vows revenge for Israel's air and ground assault on Gaza and calls the Jewish state's actions against Hamas militants "a gift" from President-elect Barack Obama.
CNN: Cornyn: Release Reid-Blagojevich tape, if one exists
A top Republican in the Senate is turning up the pressure on Senate Democratic Leader Harry Reid to be more transparent about his involvement in selecting a replacement for President-elect Barack Obama's empty Senate seat.
CNN: All the presidents' lunch
Talk about a power lunch. President Bush, President-elect Barack Obama and three living former presidents will meet in the Oval Office for a private gathering on Wednesday afternoon.
CNN: Cheney swears in Biden
The disputes over the Illinois and Minnesota Senate seats are stealing the spotlight, but there was other notable moments on Capitol Hill during today's swearing in of the 111th Congress.
WSJ: Waiting for Dodd
With the opening of the 111th Congress yesterday, all of Washington is tingling with the allure of a fresh start. Not so fast. We've got some leftover business from the 110th Congress - namely, Chris Dodd's July 2008 promise to release the details of his sweetheart loans from Countrywide Financial.
Seattle Times: Mystery solved: Gov. Gregoire visiting troops in Iraq
Gov. Christine Gregoire is in Iraq visiting Washington Army National Guard troops with a delegation including Governors John Corzine, D-New Jersey, and Rick Perry, R-Texas.
NYT: Endless Vote Recounting Tests Minnesota Niceness
Minnesota's parodied but also admired temperament of tolerance and equanimity has been seriously strained by the endless campaign for the state's still-unfilled Senate seat.
NYT: Cuomo Aide Is Said to Try to Slow Kennedy Bid
Even as Attorney General Andrew M. Cuomo insisted he was staying out of the competition for New York's soon-to-be-vacant Senate seat, a top Cuomo aide urged labor leaders and upstate officials to refrain from embracing Caroline Kennedy for the job, according to several people with direct knowledge of the conversations.
Washington Times: Donor in Richardson probe also gave to Obama
The political donor at the center of a corruption investigation that scuttled Bill Richardson's Cabinet nomination gave $28,500 to President-elect Barack Obama and the Democratic Party in September, one month after the existence of the investigation was already public, records show.
Washington Post: An Amazing Event Not to Be Here For
Inauguration Day: Millions of people, thousands of buses, mobs on the Metro, winter weather, epic potty lines. And maybe, from afar, a glimpse of history.
Who needs it?