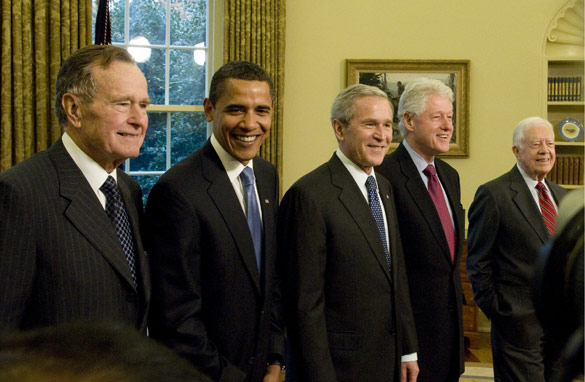 President-elect Obama, President Bush, and the three living former presidents posed briefly for pictures before meeting privately at the White House Wednesday. (Getty Images)
(CNN) - President-elect Barack Obama, President Bush and all of the surviving past presidents got together Wednesday for a historic meeting at the White House.
"One message that I have, and I think we all share, is that we want you to succeed. Whether we're Democrat or Republican, we care deeply about this country," Bush told Obama before lunch with the former presidents.
Bush and Obama were joined by Jimmy Carter, George H.W. Bush and Bill Clinton.
Watch: 'We want you to succeed,' Pres. Bush tells Obama
Obama thanked the president for hosting them and said he was grateful for the opportunity to get "advice, good counsel and fellowship" from the group.
Obama's press secretary said the presidents had a "very constructive conversation" and Obama appreciated "the spirit of bipartisanship they showed" in wishing him success.
"The president and the former presidents had helpful advice on managing the office, as well as thoughts on the critical issues facing the country right now. The president-elect is anxious to stay in touch with all of them in the coming years," Robert Gibbs said.
Presidential historian Doug Brinkley said it's "very smart politics for Obama to keep a channel open" with the former presidents.