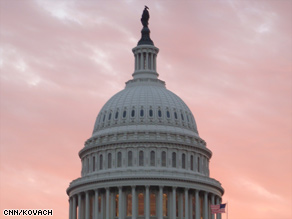 CNN: Obama, Bush and ex-presidents have 'historic moment'
President-elect Barack Obama, President Bush and all of the surviving past presidents got together Wednesday for a historic meeting at the White House.
CNN: Obama appointee to face bruising confirmation fight
Barack Obama's presidential transition, already disrupted by the sudden withdrawal of New Mexico Gov. Bill Richardson, may face another challenge in the confirmation hearings of his pick for attorney general.
CNN announces 'State of the Union with John King'
CNN announced Wednesday that its revamped Sunday public affairs show is titled "State of the Union with John King."
CNN: Joe the plumber headed to Middle East
Joe Wurzelbacher: Plumber. Campaign celebrity. Foreign correspondent?
CNN: Source: Obama and Reid spoke about Burris
President-elect Obama and Senate Majority Leader Harry Reid spoke about the Roland Burris situation Monday, according to a source familiar with the conversation.
CNN: Democrat: Blagojevich 'called our bluff' on Senate pick
Senate Democrats have no choice but to change their tone about Roland Burris becoming a U.S. senator because Illinois Gov. Rod Blagojevich "called our bluff" in appointing someone over their objections, a senior Democratic congressional source conceded Wednesday.
CNN: Porn industry seeks federal bailout
Another major American industry is asking for assistance as the global financial crisis continues: Hustler publisher Larry Flynt and Girls Gone Wild CEO Joe Francis said Wednesday they will request that Congress allocate $5 billion for a bailout of the adult entertainment industry.

CNN: Feinstein now supports Panetta to head CIA
Just two days after she criticized President-elect Obama's pick to head the sometimes-troubled CIA because he is not an intelligence professional, incoming Senate Intelligence Committee Chairman Dianne Feinstein says she will support Leon Panetta because he will "tell truth to power."
CNN: Views soften on 2 former presidents, CNN poll finds
A new national poll appears to validate the adage that time heals all wounds, at least when it comes to two former presidents of the United States.
CNN: RNC chair candidates wrap up hectic week in Washington
The campaign to determine who will lead the Republican party into the era of Barack Obama took a series of unexpected turns Wednesday, beginning with the removal of non-party members from a highly-anticipated "special meeting" of the Republican National Committee.
CNN: Analysis: GOP revival hangs on party's next leader
A fresh, invigorating appeal to voters. That's the challenge Republicans face as they set out to pick a new leader for a party driven into the wilderness after a disappointing 2008 general election.
CNN: Commentary: U.S. needs a spy chief with experience
Leon Panetta is an impressive man with many laudable achievements to his credit.
CNN: Obama to unveil DNC chair, speak on economy Thursday
Two Democratic officials say President-elect Barack Obama will go to DNC headquarters on Capitol Hill Thursday to pass the leadership torch of the party to incoming chairman Tim Kaine, the current governor of Virginia.
CNN: Reid to Senate: Get ready to work weekends, be grateful you have a job
Senate Majority Leader Harry Reid warned senators to cancel their travel plans this weekend because he has scheduled a vote Sunday morning on a long-stalled lands bill.
Boston Globe: The whistleblower
A month ago, Harry Markopolos was an accountant unknown outside Boston's financial community.
Washington Times: Anuzis, Dawson favored to head RNC
Incumbent Mike Duncan probably will get the most first-ballot votes for election as Republican National Committee chairman, but eventual victory likely will go to one of the other two RNC members running for the post in the election scheduled for Jan. 30.
NYT: Hard Times Find Replica of White House for Sale
The replica of George W. Bush's desk still sits in the Oval Office beneath the Iranian and American flags. The seal of the president of the United States still adorns the floor mats across the hall from the zebra-skin rug. And the porch overlooking the 75-car parking lot is still called the Truman Balcony.
Washington Post: In a Stage Of Suspense
The biggest music act of the presidential inauguration has finally been announced. It's TBD. They're better known as To Be Determined, and their name is on everyone's lips in show business.
Washington Post OpEd: Jimmy Carter: An Unnecessary War
I know from personal involvement that the devastating invasion of Gaza by Israel could easily have been avoided.
USA TODAY: No proof Washington said 'so help me God' - will Obama?
George Washington myth bites the dust: There's no eyewitness documentation he ever added "So help me God" to the end of his constitutionally prescribed oath of office.
Washington Post: The Blair House Witch Hunt Project
The morning after a leading member of President Bush's coalition of the willing was exposed as a member of Washington's coalition of the homeless, former Australian prime minister John Howard defended his role in keeping President-elect Barack Obama and his family from checking in early at Blair House.