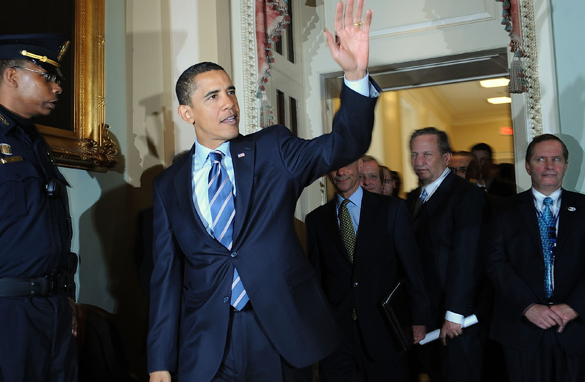 Obama met with Senate Democrats on the Hill Tuesday (Getty Images)
(CNN) - President-elect Barack Obama tried to convince Senate Democrats to get behind his plan for the second half of the $700 billion bailout, warning he would veto a threatened disapproval resolution, according to senators who met with him.
Obama on Monday asked President Bush to inform Congress of his intent to use the remaining balance under the Treasury Department's $700 billion Troubled Asset Relief Program, or TARP. Bush sent a request to Congress on behalf of the incoming administration.
Obama met with Senate Democrats on Capitol Hill to make his case for how he wants to spend the funds and to rally support for his economic stimulus plan.
Obama attended the weekly lunch of Democratic senators in what was his final visit to the Senate before his inauguration next week.
Obama took about 15 questions, many of which were from Democrats skeptical of TARP, senators in the meeting said. Obama repeatedly promised to make the process more transparent, they said.
Republicans and Democrats have said they were upset by how the Treasury Department spent the first allotment of $350 billion.
Those voicing concerns said they don't feel like there was enough accounting for where the money went. Some Democrats also said homeowners facing foreclosure aren't getting enough help.
Obama made clear that he doesn't want to issue a veto as one of his first actions in office, but he insisted that he has no choice, senators said.
Sen. Chris Dodd, chairman of the banking committee, reminded fellow Democrats what a bad political situation it would be to pass the disapproval resolution and force Obama use his veto pen on that as one of his very first acts, senators said.
While some Democrats said they felt more comfortable after meeting with Obama, others said they still have a lot of questions and are still unsure how they will vote on TARP.
U.S. Rep. Barney Frank, D-Massachusetts, and his House Financial Services Committee met Tuesday to look at how the TARP money has been spent so far.