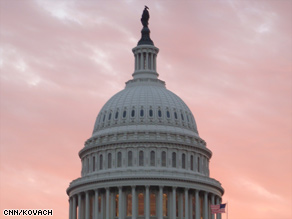 CNN: Burris says he's honored to be seated in the Senate
Illinois Senate-designate Roland Burris said Monday afternoon that he is "truly humbled and honored" to learn he will be seated in the Senate later this week.
CNN: Obama to order Guantanamo Bay prison closed
President-elect Barack Obama plans to order the closing of the U.S. military prison at Guantanamo Bay as early as his first week in office to show a break from the Bush administration's approach to the war on terror, according to two officials close to the transition.
CNN: Roughly 10 advisors helping Clinton prep for confirmation
The team helping Hillary Clinton prepare for her secretary of state confirmation hearing includes roughly 10 advisors, from deputy designates Jim Steinberg and Jack Lew, Wendy Sherman, and campaign policy aide Jake Sullivan to her Senate foreign policy staffer, Andrew Shapiro.
CNN: Obama meets with Mexican leader Calderon
President-elect Barack Obama met Monday afternoon with Mexican President Felipe Calderon in the first face-to-face talks of the incoming U.S. leader with a foreign head of state.
CNN: Senate Republicans brace for ominous 2010
The 111th Congress has just barely begun as Senate Republicans brace for more grueling elections in 2010 that threaten to further weaken the party's influence in Congress.
CNN: What will Obama do with his millions of online 'friends'?
Has President-elect Barack Obama found the person to entrust with his predominantly online network of millions of supporters?
CNN: Obama's rhetoric meets reality
In style and substance, Barack Obama is looking like he could be a different president than the candidate voters got to know during the campaign.
CNN: Bush touts accomplishments, admits mistakes
President Bush admitted mistakes but defended his accomplishments in the final White House news conference of his presidency Monday.

CNN: Openly gay bishop to deliver first inauguration event invocation
The first openly gay priest ordained by a major Christian denomination will deliver the invocation at the kickoff inauguration event Sunday at the Lincoln Memorial.
CNN: Kerry expecting 'fair and expeditious' hearing for Clinton
Senate Foreign Relations Committee John Kerry expects a "fair and expeditious" hearing for the nomination of Hillary Clinton to secretary of state, a Kerry spokesman told CNN.
CNN: President Bush requests time for farewell address
President Bush has requested time from the networks Thursday evening to deliver a roughly 15-minute farewell address from the East Room of the White House.
CNN: Dulles to close runway for overflow inaugural plane parking
Cars, limos and buses aren't the only modes of transportation that will find parking at a premium on Inauguration Day.
CNN: Beyonce, Jamie Foxx among stars to appear at inaugural kickoff
The opening celebration of the presidential inauguration will feature a massive line-up of musical all-stars performing a free show in the shadow of the Lincoln Memorial, the Presidential Inaugural Committee said Monday.
CNN: Q&A: Presidential inauguration 2009
The 2009 presidential inauguration is looking to be historic and, frankly, headache-inducing for the throngs of people descending on the nation's capital to watch Barack Obama sworn in as the 44th president.
Washington Post OpEd: Margaret Spellings: A Word To My Successor
Dear Arne Duncan,
Congratulations! I am so pleased that President-elect Barack Obama has asked you, a fellow reformer, to serve as the next U.S. secretary of education.
Washington Times: Interest groups descend on D.C.
President-elect Barack Obama may want to keep "special interests" out of the White House, but he can't keep them out of Washington for his inauguration.
Washington Times: Marching into history
D.C.'s Dunbar, the first black high school in U.S., prepares to honor the nation's first black president.
NYT: Sounding Like a Rival, Weiner Attacks Bloomberg
Even as some allies expressed doubts about his intention to run, Representative Anthony D. Weiner laid out a forceful agenda on Monday for a possible 2009 mayoral campaign and issued a stinging critique of Mayor Michael R. Bloomberg, his likely chief rival in the race.
Detroit News: Dear Obama: Start in Michigan
Dear President-elect Obama:
Your economic advisers are urging quick action, and massive infusion of dollars, to pump up the fallen souffle that is the U.S. economy.
Why not start here?
Washington Post: '08 Campaign Guru Focuses On Grass Roots
David Plouffe became famous for managing Barack Obama's White House campaign with precision. But during an interview on Saturday at The Washington Post, he had a little more trouble managing his 4-year old son's artwork as he talked about an Obama presidency and his new role on the eve of the inauguration.