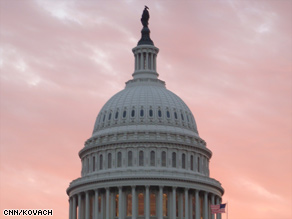 CNN: Bush: I would have done some things differently
In his final public address from the White House, a reflective President Bush on Thursday recalled the ups and downs of his eight-year tenure and said he was willing to make the tough decisions.
CNN: Senate OKs use of second half of bailout funds
President-elect Barack Obama won a significant political victory Thursday, just days before his inauguration, as the Senate voted to release the second half of the $700 billion bailout package.
CNN: 'Bloody Sunday' paved road to Obama White House, activists say
For almost 60 years, Grace Britton Sweet has had the right to vote. She can vividly recall the day she registered.
CNN: Gitmo closing may take time, Holder says
Attorney General-designate Eric Holder said Thursday that the detention facility at Guantanamo Bay, Cuba, will be closed after President-elect Obama takes office, but not as soon as the administration would like.
CNN: Blitzer: An inside look at Air Force One
Driving to this sprawling base just outside Washington, D.C. this week brought back lots of memories. Covering a president often means traveling with a president aboard this extraordinary aircraft, and as CNN's Senior White House Correspondent during the Clinton administration, I used to come here all the time to board Air Force One.
CNN: Caroline Kennedy losing ground in another NY poll
A new survey of New York voters is the second poll in two days to find Andrew Cuomo pulling away from Caroline Kennedy.

CNN: Republican sitting pretty in Virginia governor's race
For the moment, at least, things are looking up for the GOP in Virginia.
CNN: Inaugural conundrum: controlling the crowds
The 1 to 2 million people expected to pour into downtown Washington for inaugural festivities will pose major challenges for the city, for law enforcement, and for the attendees themselves.
CNN: Holder admits 'mistakes' in Rich pardon
During his confirmation hearing Thursday, Attorney General-designate Eric Holder conceded that he "made mistakes" during the Marc Rich pardon incident that were "not typical" of his conduct over the bulk of his career.
CNN: Obama's green energy push spotlights Ohio biz
Never mind Joe the Plumber; meet John the Manufacturer. That's what President-elect Barack Obama will be doing Friday, when he stops in Ohio to pitch his $825 billion economic recovery and job creation package.
CNN: Burris sworn in as junior senator from Illinois
Veteran Illinois politician Roland Burris was sworn in as the junior U.S. senator from Illinois on Thursday afternoon, following an extended political battle to claim the seat.
CNN: Holder: W.H. should act 'within the dictates' of wiretap law
Asked during his confirmation hearing Thursday whether the president has an "inherent authority" to engage in warrantless surveillance, Attorney General designate Eric Holder said the president would be "well advised" to work "within the dictates" of the Foreign Intelligence Surveillance Act (FISA).
CNN: Rick Warren praises Obama's pick of gay bishop
Rick Warren offered an olive branch to another minister delivering an inaugural invocation — an openly gay Episcopal bishop who had been critical of the evangelical pastor over his support for California's Proposition 8.
CNN: Holder: Waterboarding is torture
Attorney General designate Eric Holder said Thursday "waterboarding is torture" and a violation of the Geneva Conventions during his confirmation hearing before the Senate Judiciary Committee.
CNN: Four farewells and a hello
It's a day of four farewells and a hello here in the nation's capitol.
President Bush goes in front of cameras in prime time tonight to give a farewell address to the country.
NYT: Family and Lawyer Fear for Reporter Who Threw His Shoes at Bush
More than a month has passed since an Iraqi television reporter threw his shoes at President Bush during a Baghdad news conference held to highlight what Mr. Bush called a successful American military effort to pacify Iraq.
Chicago Tribune: Blagojevich won't go to D.C. for Obama inaugural
Gov. Rod Blagojevich, worried he would be a "distraction" given the impeachment and criminal charges against him, won't be going to Washington for President-elect Barack Obama's inaugural festivities, a spokesman said today.
Washington Post: Disconnected From Obama's America
Wayne Loewer's truck reveals a lot about his life. A 12-gauge shotgun for duck hunting rests on the floorboard.
Washington Post: Bring On Those Buses
Our nation's capital will survive the financial meltdown, the deepening recession and the plethora of foreign crises from Afghanistan to Zimbabwe. Whether Washington will survive Tuesday's inauguration, however, is an open question.