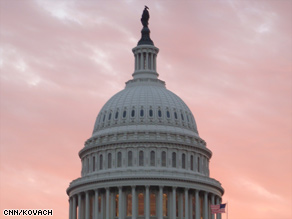 CNN: Obama speaks at Lincoln Memorial celebration
Inauguration revelry began Sunday afternoon as thousands gathered on the National Mall in Washington for a free concert featuring big stars.
CNN: Obama: Politician, pop icon - or both?
In a framed photo for sale at one of the many souvenir shops in Washington, Barack Obama looks more like a movie star than a politician as he exits a vehicle in a black suit, red tie and sunglasses.
CNN: Commentary: Big risk in Obama's economic stimulus plan
Bolstered by wide Democratic margins in both chambers of Congress, the new administration assumes power Tuesday with a broad public mandate to repair the feeble economy.
CNN: Washington visitors looking to be part of history
They came from around the world, braving bitterly cold temperatures, security perimeters and large crowds in the streets of the nation's capital to see one man make American history.
CNN: Chertoff: Inauguration security forces 'ready'
If anything were to go seriously wrong at Tuesday's inauguration of Barack Obama, Homeland Security Secretary Michael Chertoff is the man who would manage the crisis response. He is trying to make sure everything goes right.
CNN: Pelosi, Obama disagree on tax cuts, Bush investigations
Two days before President-elect Barack Obama is officially sworn in, House Speaker Nancy Pelosi made clear she disagrees with the incoming administration on at least two issues.
CNN: Clinton thanks supporters, prepares for new supporting role
Sen. Hillary Clinton sent supporters what appears to be her final political e-mail Sunday, thanking them for backing her presidential bid as she now prepares for a new role in President-elect Barack Obama's administration.
CNN: Bush aides: No "O's" Will Be Removed from WH Keyboards
Aides to incoming President Barack Obama should feel confident in knowing their new computers will have all 26 letters in the alphabet when they show up at the White House on Tuesday.

CNN: No Bush moving trucks needed Inauguration Day
On Inauguration day, there's one scene at the White House that won't be playing out exactly as it has during past transitions: the traditional moving of the outgoing First Family's belongings.
CNN: Obama to meet with military commanders Wednesday on Iraq
Incoming President Barack Obama is planning to meet with top military leaders on Wednesday to discuss the war in Iraq and move to begin implementing his campaign promise of removing all combat troops within 16 months, according to two transition officials familiar with the matter.
CNN: Obamas visit DC church — but will it be a new spiritual home?
President-elect Barack Obama and his family attended services at a historic Washington church Sunday morning, but his transition office said no final decision has been made on the family's congregation in their new home town.
CNN: Commentary: The real ties between Lincoln and Obama
They are big shoes to fill by any standard, political or historical.
CNN: Commentary: Let's treasure the old along with the new
On the dawn of the most historic inauguration of our time, we nervously await "change we can believe in."
CNN: Somber ceremony, celebratory bash for Obama on Sunday
On his first full day back in Washington, President-elect Barack Obama visited Arlington National Cemetery on Sunday, where he took part in a ceremony alongside Vice President-elect Joe Biden.
CNN Poll: Obama more popular than ever, despite speed bumps
A new national poll suggests that Barack Obama is more popular than ever, regardless of recent speed bumps on the road to transition.
AP: Mayor: Sullenberger family going to inauguration
US Airways pilot Chesley B. "Sully" Sullenberger and his family are going to the presidential inauguration, the mayor of his California hometown said Sunday.
Washington Post: Thousands Expected for Volunteer Activities
Thousands of Washington area residents are expected to join today in activities fulfilling President-elect Barack Obama's nationwide call for community service.
USA TODAY: Cosmetic procedures pick up prior to Obama inauguration
To heck with Champagne, break out the Botox. It's inauguration party time.
NYT: When the Action Moves On
This week, the eyes of the world will be on Washington as perhaps two million people descend to bask in the Obama glow. City officials expect more than 10,000 tour buses to roll into the area. Hotels 150 miles away have been booked for months. Even campsites are booked.
Washington Times: Inaugural quiz: Test your knowledge
Are you a student of presidential inaugurations?
Washington Times: Obama's half brother keeps low profile
The news release didn't say who Mark Ndesandjo was. Nor did the posters and e-mails promoting the concert in this southern Chinese boomtown where he played piano to raise money for orphans.
LA Times: Forget inaugural bashes - some Republicans are skipping town
Half a dozen Republicans decamped from Washington to Southern California this weekend to get away from the crowds, the cold and the Barack Obama bobbleheads. They've rented a house in Palm Springs with a heated swimming pool, a hot tub and an outdoor fire pit.
San Francisco Chronicle: Teen battling cancer gets inauguration tickets
Anew chapter will be written Tuesday in the young life of James Kessler, the cancer-fighting San Francisco high school student whose dream of meeting Barack Obama came true right before the presidential election.