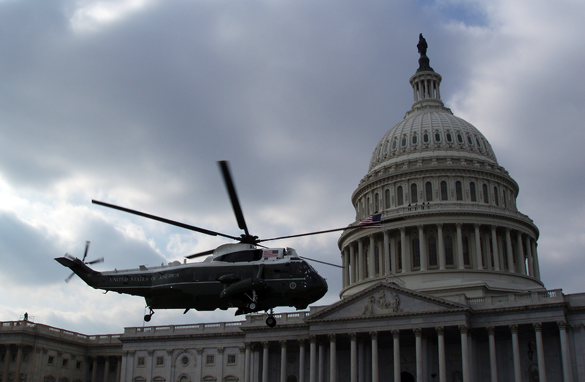 Former President Bush and his family departed the Capitol earlier Tuesday for Andrews Air Force Base. (Mike Roselli/CNN)
WASHINGTON (CNN) - On President Bush's final day in office, painters and cleaning crews were still working in the West Wing press offices. Moving crews heaved boxes and delicately carried paintings bound in bubble wrap. Other moving trucks were unloading boxes and carting them into the White House.
George W. Bush spent Tuesday morning making calls. He rang outgoing Secretary of State Condoleezza Rice, former White House Chief of Staff Andy Card and former National Security Adviser Stephen Hadley.
The former president also had a conversation with his good friend the Rev. T.D. Jakes.
Jakes is the chief pastor of the nondenominational megachurch Potter's House in Dallas, Texas. He was in Washington to give a sermon Tuesday at St. John's Church, a short walk from the White House.