(CNN) - President Obama and First Lady Michelle Obama saw former President Bush and former First Lady Laura Bush off Tuesday afternoon as the Bushes left Washington.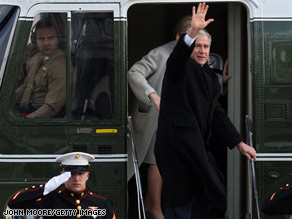 Former president George W. Bush waves before departing the U.S. Capitol by helicopter after the inauguration of Barack Obama.
They are now en route by helicopter to Andrews Air Force Base, where they will board a flight to Midland, Texas. The plane was used by the former president as Air Force One, but does not have that designation for this flight, since he no longer holds office.
Watch: President Obama escort former president George W. Bush to a waiting helicopter