(CNN) - Al Franken spokesman Andy Barr confirmed Tuesday that Senate Majority Leader Harry Reid has provided the Democratic Senate hopeful with tickets to the swearing-in ceremony today. Barr added Franken is "in the bleachers on the Mall."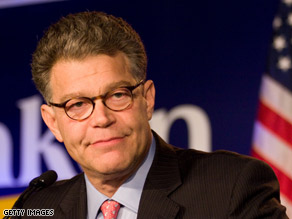 Franken and former GOP Sen. Norm Coleman are still locked in a bitter fight for the U.S. Senate seat from the state of Minnesota.
A Coleman spokesman said the Republican will be at home in the Twin Cities.