(CNN) - Chief Justice John Roberts seemed to have some trouble administering the presidential oath of office Tuesday. Here is the actual oath in full, as laid out in Article II, Section I of the U.S. Constitution: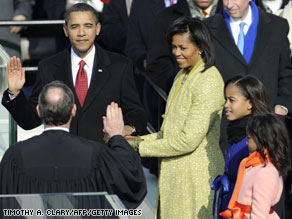 Barack Obama is sworn in as the 44th US president by Supreme Court Chief Justice John Roberts.
"I do solemnly swear (or affirm) that I will faithfully execute the office of President of the United States, and will to the best of my ability, preserve, protect and defend the Constitution of the United States."