WASHINGTON (CNN) - An aide to Senator Ted Kennedy tells CNN the following anecdote about giving out allotted tickets to the public: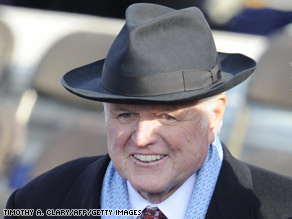 Sen. Ted Kennedy arrives on the inaugural stage.
Kennedy's office, like almost all others, didn't have enough tickets to meet demand but Monday got a bunch forwarded to them from other offices who had extras so they were able to give out more than expected, the aide told CNN..
Late Monday, the aide said, a 70-year-old Washington, DC cab driver and an African-American, showed up at Kennedy's office pleading for tickets for himself and his grandson. The aide in Kennedy's office said he was thrilled to be in a position to meet the request.
Sen. Kennedy also arranged for a brain cancer patient to get a seat close up to the ceremony, the aide said.