WASHINGTON (CNN) - President Obama, the nation's first African-American
chief executive, invoked the spirit of the civil rights movement during his
inaugural address, noting that, in previous generations, his own father might
have been denied service at a restaurant.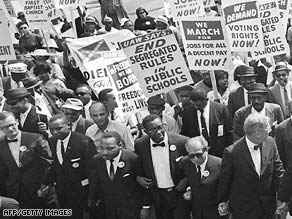 Civil rights leader Martin Luther King, Jr. walks with supporters during the 'March on Washington' in 1963. Afterward, King delivered the 'I Have a Dream' speech from the steps of the Lincoln Memorial.
"This is the meaning of (America's) liberty and our creed – why men and
women and children of every race and every faith can join in celebration across
this magnificent mall, and why a man whose father less than sixty years ago
might not have been served at a local restaurant can now stand before you to
take a most sacred oath," Obama said.