From a Tuesday morning pool report from reporters traveling with President-elect Barack Obama as he attended a morning church service: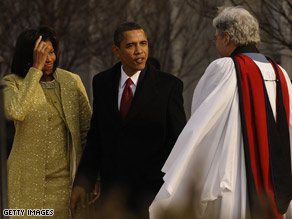 After a brief reading from Rabbi David N. Saperstein and a solo singing performance by Yolanda Adams, Rev. Kirbyjon Caldwell – Pres. George Bush's spiritual advisor – introduced the keynote speaker: Bishop T.D. Jakes
(Note: This pool report was later corrected to reflect the fact that Caldwell is senior pastor from Windsor Village United Methodist Church in Houston, and Jakes is senior pastor at Potters House, in Dallas - not windsor village in Houston.)
Jakes read from Daniel 3:19 and used the scripture to offer PEOTUS a series of four lessons for his administration.
1 – "In time of crisis, good men must stand up. God always sends the best men into the worst times."
2 – "You cannot change what you will not confront. This is a moment of confrontation in this country. There's no way around it…This is not a time for politeness or correctness, this is a time for people to confront issues and bring about change."
3 – "You cannot enjoy the light without enduring the heat. The reality is the more brilliant, the more glorious, the more essential the light, the more intense the heat. We cannot separate one from the other."
4 – "Extraordinary times require extraordinary methods. This is a historical moment for us and our nation and our country, and though we enjoy it and are inspired by it and motivated by it."
After his four lessons, Jakes turned from the crowd and looked directly at Obama.
"The problems are mighty and the solutions are not simple," Jakes said, "and everywhere you turn there will be a critic waiting to attack every decision that you make. But you are all fired up, Sir, and you are ready to go. And this nation goes with you. God goes with you.
"I say to you as my son who is here today, my 14-year-old son – he probably would not quote scripture. He probably would use Star Trek instead, and so I say, 'May the force be with you."
Monsignor William A. Kerr delivered a brief prayer for VPEOTUS and then The Rev. Otis Moss Jr. delivered a blessing for PEOTUS. Moss Jr. said: "Give to president Obama a double measure of faith and hope, and the strength to do justice…Give him the sight to see all that needs to be seen and the insight to look beyond the clouds and chaos of the moment and see great joys and possibilities. Let the house where he lives and serves be a house of hope for the nation, a house of joy and affection for his family, and the house of friendship for all nations. We thank you eternal god, for our new president, president elect Obama."