WASHINGTON (CNN) - The Rev. Joseph Lowery, a leader during the civil rights movement and former president of the Southern Christian Leadership Conference, delivered the inaugural ceremony's benediction Tuesday on the west front of the U.S. Capitol.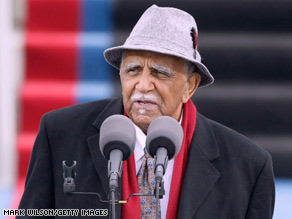 "We truly give thanks for the glorious experience we've shared this day," Lowery, 87, said in delivering the prayer.
He asked that Americans cling to the spirit of fellowship embodied at the inauguration.
"We ask you to help us work for that day when black will not be asked to give back, when brown can stick around, when yellow will be mellow, when the red man can get ahead, man, and when white will embrace what is right," Lowery said.