WASHINGTON (CNN) - Federal security officials are reviewing an unspecified threat to disrupt the inauguration of Barack Obama, the Department of Homeland Security said Tuesday.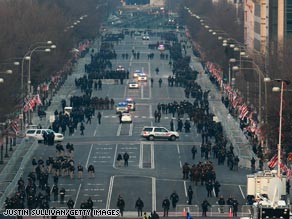 Police fill Pennsylvania Avenue before the inauguration of Barack Obama.
The FBI is investigating two "streams of intelligence" suggesting the "Somalia-based terrorist organization Al Shabaab" may be plotting an attack timed to coincide with the event on Tuesday, the FBI and DHS said in joint threat advisory obtained by CNN.
"A plot to disrupt the Inauguration does not have to take place in the D.C. area to be effective," the advisory said, adding the tips came from "sources with credible reporting history."
"Authorities at all levels are vigorously pursuing any lead relating to this threat information. The Transition Team has been briefed and is fully integrated into the process," the DHS said in its statement announcing the threat.
Security officials have made some readjustments to inauguration security as a precaution, but have not changed the threat level, an administration official told CNN.
But DHS spokesman Russ Knocke told CNN that to his knowledge there has not been any adjustment to inaugural security, which he called "already unprecedented."
Secretary of State Condoleezza Rice in February designated al-Shabaab, also known as the Mujahideen Youth Movement, a "Foreign Terrorist Organization."
The State Department calls it "a violent and brutal extremist group with a number of individuals affiliated with al Qaeda. Many of its senior leaders are believed to have trained and fought with al Qaeda in Afghanistan."
The Somali government and civil society activists working for dialogue and reconciliation have been threatened by the group.
The group has claimed responsibility for shooting deputy district administrators and for several bombings and shootings in Mogadishu targeting Ethiopian troops and Somali government officials. Its leader ordered fighters to attack African Union troops and urged foreign fighters to join the group.
Tens of thousands of policemen, federal agents and National Guardsmen have been deployed on land, water and air in a unprecedented effort to make sure the inauguration of Barack Obama is secure.
The security effort involves Secret Service agents, 8,000 police officers from the District of Columbia and other jurisdictions, 10,000 National Guardsmen, about 1,000 FBI personnel, and hundreds of others from the Department of Homeland Security, the National Park Service and U.S. Capitol Police. Another 20,000 members of the National Guard are ready to respond if there is an emergency, according to Michael Chertoff, the Homeland Security
Secretary.
Security planners have drawn up procedures to deal with improvised explosive devices, suicide bombers, and the use of a weapon of mass destruction. A recent intelligence assessment, however, said a lone wolf would pose the greatest potential threat. Chertoff said an individual or small group planning to do harm is difficult to detect.
"Whether the motivation is racism or some psychological disorder ... in an open society it is impossible to keep a single individual from doing some damage," he said.
–CNN Homeland Security Correspondent Jeanne Meserve and Homeland Security Producer Pam Benson contributed to this report.