WASHINGTON (CNN) - Controversial evangelical pastor Rick Warren delivered the inaugural ceremony's invocation on the west front of the Capitol at 11:48 am ET.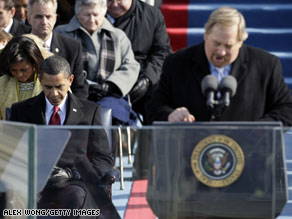 Barack Obama bows his head during the invocation by Rev. Rick Warren.
"Today... we celebrate a hingepoint of history with the inauguration of our first African-American president of the United States," Warren said. "We know today that Dr. King and a great cloud of witnesses are shouting in heaven."
Many liberal activists opposed the choice of Warren to deliver the invocation, largely due to Warren's outspoken opposition to gay marriage.
Warren supported California's Proposition 8, which narrowly passed last November, banning gay marriage in the nation's most populous state.